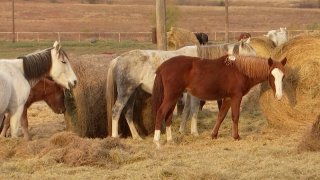 Several horses rescued after years of neglect are being brought back to health in East Texas thanks to the work of animal rescue organizations.
Seven Paso Fino mares and two fouls are being treated at the Black Beauty Ranch sanctuary near the Henderson County city of Murchison after suffering severe neglect and starvation, according to the Humane Society of the United States.
The group rescued consists of two mares and their two foals, along with five other mares who are possibly pregnant, the organization said. The mares, who range in age from 10 to 20 years old, will undergo medical evaluations in the coming weeks to determine their pregnancy status.
"The Houston SPCA removed the group from deplorable conditions on a private property in Washington County, Texas, and cared for them prior to their placement at the sanctuary, which is operated by the Humane Society of the United States and is home to 800 residents, including 400 equines," the organization said in a news release.