The watering restrictions in six cities after a huge water main break in Richardson, have been lifted. Repairs to fix the massive water main break wrapped up on Monday. The break last week, sent a wall of water rushing through as many as 20 homes in one neighborhood, prompting at least one rescue.
Last week the city prohibited outdoor watering and asked water customers to even limit indoor use until a break on a North Texas Municipal Water District transmission line was repaired.
Plano, Murphy, Sachse, Wylie and Garland were included in the restrictions, that have since been lifted.
Richardson Water Shortage Requires Immediate Conservation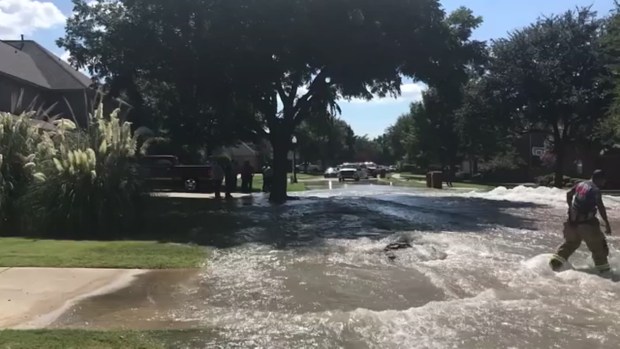 The city said Thursday evening a water main in the 4500 block of Crystal Mountain Drive broke at about 2:30 p.m.
Video sent to NBC 5 showed flooded residential streets covered with fast-moving water. Melinda Hutchenrider saw a 3-foot wave rushing toward her home at the epicenter of the damage.
"I just started screaming and shut the front door and then the water just started coming in the house and it was shooting up the sides of the door and in the windows and like right through the brick," she said. "I felt hysterical. I was really upset, there's water in my house."
Hutchenrider followed her dogs to their back porch to escape, fearing she could be electrocuted. She wound up spending hours trapped on a dry spot as Richardson firefighters worked to cut down her fence and rescue her from surrounding flood waters.
"I was yelling shut it off, shut it off. Why can't they shut it off? We had no idea. We didn't know it was something this huge," she said.
Her husband praised first responders.
"City of Richardson firefighters came and got her out and so she's safe and now we're just down to the 3 foot wall of water going completely through our house over our pool, everything. The whole first floor is ruined," Ken Hutchenrider said.
Water to the main was shut-off at about 4 p.m. to allow crews to begin working on repairs.
The broken transmission line also serves the cities of Plano, Garland, Murphy, Sachse and Wylie, who are urging their customers to cut back on outdoor watering until Tuesday.