A wastewater treatment product never revealed to state regulators caused a massive fire at chemical plant in Waxahachie on Monday, according to the company.
Magnablend CEO Scott Pendery said Thursday the fire occurred while the company was producing the 16th batch of the product. The production process caused excessive steam, and there was a spark nearby.
"Clearly there's an unacceptable result here along the way, which we're trying to figure out what caused it," he said. "The product, as we understand it, should never have yielded that kind of result."
The company had been making the product at the plant since August.
Conflicting Information in Magnablend Fire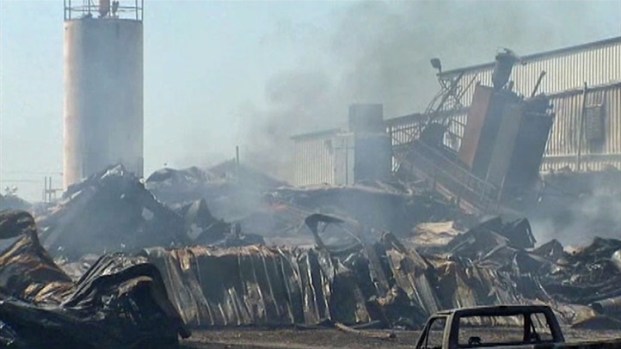 Pendery said it is not clear whether the company is required to disclose ingredients of the product to the Texas Commission on Environmental Quality as must be done with many hazardous chemicals.
He refused to reveal those ingredients Thursday.
"At the company, we know what we're putting in that tank," he said. "It's not something I'm at liberty to discuss right now."
On Monday, the Texas Commission on Environmental Quality erroneously reported that ammonia and several acids were used in producing fertilizers at the plant.
Pendery blamed that mistake on the state agency but admitted that current records on exactly what is produced there may not have been filed with the TCEQ.
U.S. Environmental Protection Agency investigators at the scene said the plant primarily produces animal feed additives.
EPA Coordinator Nicolas Brescia said smoldering of those animal feed compounds is the cause of an extremely foul odor rising from the scene, but that continuous EPA air monitoring has detected no air quality danger.
"They're sulfur compounds," he said. "They smell bad. Just because they smell bad does not mean it is a public health hazard."
Customers at a nearby gas station said they were concerned about the foul odor and the plant.
"As of right now, it's pretty intense over there, so it's hard to say what was in there," said Ted Hancock, a professional nurse.
Brescia said nearby schoolchildren are being kept indoors to avoid the odor and exposure to fire runoff water from the plant.
Pendery said tests of the runoff water have not detected health hazards but that the water and soil that came in contact with it will be removed at the company's expense as a safety measure anyway.
The EPA, the TCEQ and the Waxahachie fire marshal will all conduct investigations of the fire and Magnablend's compliance with state and federal rules.