Police in Hurst, Texas, said they arrested two men on charges of possession of child pornography, one of whom is a 17-year-old who an arrest affidavit indicates was enrolled in an elementary school as a sixth grader to "recruit potential victims."
Randy Ray Wesson, 28, and Ricardo Javid Lugo, 17, were taken into police custody following a tip from The National Center for Missing and Exploited Children. A search warrant was issued for a home in Fort Worth, where police said they seized a large amount of evidence of child pornography.
The investigation also revealed that Lugo was enrolled at Hurst Hills Elementary School in Hurst as a 12-year-old in the sixth grade.
Wesson, Lugo Arrested
NBC 5 obtained Lugo's arrest affidavit on Thursday, in which detectives said Wesson "confessed that police would find approximately 42,000 child pornography images on his computer, thumb drive, phone and SD cards." Police said Wesson also admitted to sexually abusing more than 100 children between the ages of 7 and 14.
Court documents state that Wesson said he met Lugo on Instagram and drove to El Paso to pick him up. Wesson claims the two had a sexual relationship.
Child Porn Suspect Enrolled in School as Sixth Grader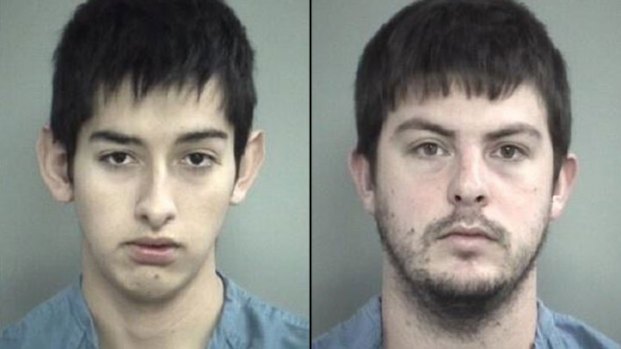 NBC 5 asked Wesson's parents about the incident, but they declined to comment.
During a search of Lugo's phone, authorities said they found images of "children at school, dated Aug. 25 through 26, 2014," but court documents don't make it clear whether they're illegal images.
Documents also state a video on Lugo's cell phone dated Aug. 31, 2014, shows Lugo spanking a child who appeared in a previous photograph taken at school.
Lugo's arrest affidavit also stated that messages on the phone between Wesson and Lugo "indicate that Ricardo Lugo is recruiting possible victims from school for himself and Randy. Ricardo tells Randy about seeing one of the kids' penis. He also talks about telling other kids not to tell and having to follow them home to see where they live."
The affidavit also indicates that authorities tracked Lugo's mother to El Paso, where she said he went missing six months ago.
Lugo Enrolled in Elementary School
Police said Lugo's enrollment at Hurst Hills was supported by counterfeit documents presented to the school. According to Hurst-Euless-Bedford Independent School District spokeswoman Judy Ramos, the staff at Hurst Hills followed all procedures regarding enrollment when the student was enrolled in August.
"There was no indication that the student's records were forged or that the student was too old to attend elementary school," she said. "The student's behavior at school also did not raise any concerns."
Ramos also said in a news release sent to NBC 5 that Wesson posed as Lugo's father.
Parents of the sixth graders enrolled at the school have been personally contacted, according to the district, and a letter was sent home to the parents of all of the students enrolled at the school. The letter encourages parents to talk with their children, but it is also clear they don't know how many victims there are and if any of them are from the school.
"It's kind of scary," said Wale Aridegbe, whose son is in second grade at Hurst Hills. "I'm still trying to wrap my head around it."
"My one concern is, is this a one-time thing? This one bad person that got into the school?" said Danny Scott, whose son is in fourth grade at the school. "Or is there more to this?"
School administrators have been working with police and still aren't sure how Lugo fooled them for three months.
"We looked at the document when the former student was enrolled, Ramos said. "They looked like other birth certificates and other immunization records."
Wesson's neighbors said they never suspected anything strange.
"Man, that would have never crossed my mind of something like that," said neighbor Arturo Castrellon.
Two Men Arrested for Child Pornography in Hurst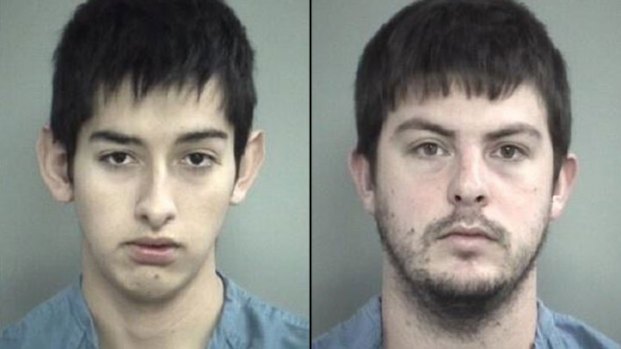 Homeland Security Intervenes
Officials with the U.S. Department of Homeland Security said they had Wesson into federal custody Friday morning. His case will be turned over to the U.S. Attorney for federal prosecution, they said.
Wesson was being held on charges of possession with intent to promote child pornography, the sale/display of harmful materials and tampering with government record. His bond was set at $3 million.
Lugo is being held on possession of child pornography and his bond was set at $250,000.
Police said they are concerned these men had contact with additional child victims and asked that anyone concerned call Hurst Police at 817-788-7146.
NBC 5's Todd L. Davis contributed to this report.