What to Know
Trooper Damon Allen, 41, was fatally shot during a traffic stop on Thanksgiving Day. He was married and had three children.

Gunman identified as Dabrett Black, 32, of Lindale. He's been charged with capital murder of a peace officer and is being held without bond.

Black arrested by Waller County deputies hours after fatal shooting near Fairfield.
A man with a lengthy history of aggression toward law enforcement was arrested and charged with capital murder in the fatal shooting of a Texas State Trooper on Thanksgiving Day.

Slain State Trooper a Father of Three; Suspect Arrested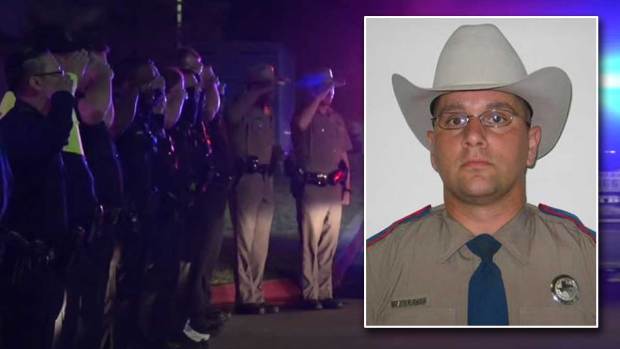 Late Thursday night, the Texas Department of Public Safety identified the fallen State Trooper as 41-year-old Damon Allen, a married father of three who joined the department in 2002.
RAW VIDEO: Officers Show Support of Fallen State Trooper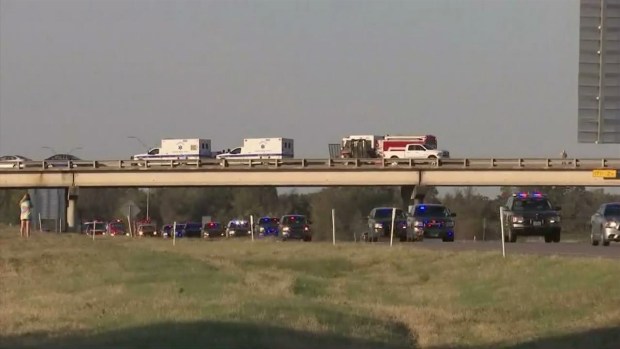 "Our DPS family is heartbroken tonight after one of Texas' finest law enforcement officers was killed in the line of duty," said Steven McCraw, director of the Texas Department of Public Safety. "Trooper Allen's dedication to duty, and his bravery and selfless sacrifice on this Thanksgiving Day, will never be forgotten."
Investigators said Allen pulled over 32-year-old Dabrett Black, of Lindale, along Interstate 45 south of Fairfield and was walking back to his patrol car when he was fatally shot with a rifle.
Officials said Black then drove away; Allen died at the scene.

With heavy hearts on this Thanksgiving, Cecilia and I express our most sincere condolences to the family, colleagues and friends of the Trooper who was callously killed today in the line of duty.Texas Gov. Greg Abbott
Five hours later, and more than 100 miles from where the fatal shooting took place, deputies in Waller County arrested the suspected shooter near Hempstead.
DPS officials identified the suspect as Black.
The Waller County Sheriff's Office said on Facebook that shots were fired ahead of Black's apprehension, but did not indicate who opened fire.
Meanwhile, late Thursday night, Texas DPS joined a number of other law enforcement agencies escorting Allen's body from the crime scene to the Dallas County Medical Examiner's office.
Law Enforcement Officers Escort Body of Slain Trooper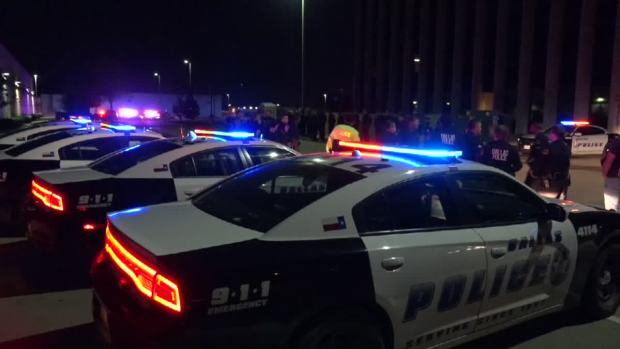 The Navarro County Office of Emergency Management praised agencies on Twitter for the "excellent operation" in taking the suspect into custody with no additional casualties.
Black went before a magistrate Friday and was officially charged with capital murder of a peace officer, among other charges. He is being held in the Brazos County Jail -- bond has not been set.
Attorney information for Black was not immediately available.
Texas State Trooper Shot, Killed in Freestone County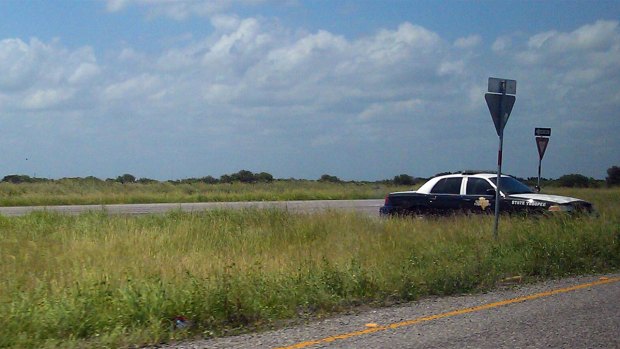 Suspected Shooter Has a Troubled Past
Black had a history of vehicle chases and other issues with law enforcement. Jail records show he was free on bond from Smith County where he was charged earlier this year with aggravated assault of a public servant and evading arrest with a vehicle.
Bond of $400,000 in those cases has now been revoked.
Smith County court records show Black was indicted in October after he led police on a chase in July and rammed his car into a police cruiser after they tried to pull him over for speeding.
Court records also show 2015 charges of assault on a public servant and attempting to take a weapon from an officer. Those charges were dismissed in 2016, but it was unclear from records why.
Black was also charged with evading arrest in Anderson County, though details of the charges are unclear, including the date. According to jail records, bond was forfeited in that case.
On Friday, Black was moved from the Brazos County Jail, where he was originally booked, and brought back to Freestone County where the shooting took place.

A motive for the Thanksgiving Day shooting remains unclear.
Raw Video: Texas State Trooper Shot and Killed in Freestone County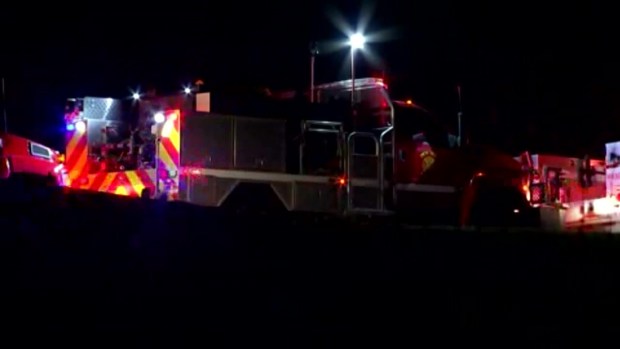 Slain Trooper Was a Father of Three

Allen was born in Morgantown, Kentucky, on Oct. 4, 1976. His family moved to Mexia in 1984 where he grew up and played football for the Mexia Black Cats before graduating in 1995.
Allen married Kasey Pickett in November 1993 and after graduation worked beiefly for the Mexia State School before accepting a position with the Texas Department of Criminal Justice at the Mark W. Michael Unit, a men's prison in Tennessee Colony, Texas. Allen then, in 2002, went on to become a Texas State Trooper.
RAW VIDEO: Update After a Texas State Trooper Killed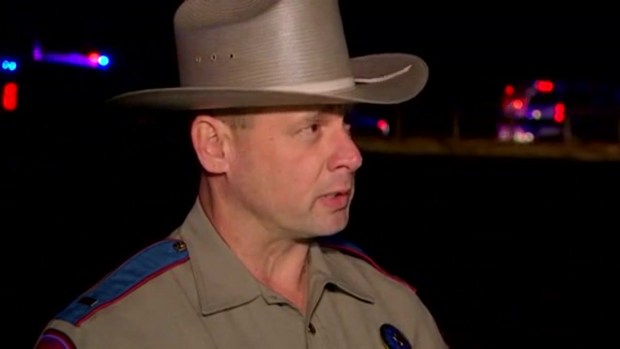 Allen is said to have enjoyed hunting, fishing and riding sand dunes. He attended Cowboy Church in Freestone as well as First Assembly of God in Mexia.
Allen is suvived by his wife, Kasey Pickett Allen, of Teague, two daughters and a son, his parents, four siblings, and numerous other in-laws, nieces and nephews.
On Friday afternoon, Gov. Greg Abbott ordered Texas flags at Texas Department of Public Safety facilities statewide to be lowered to half-staff in honor of Allen.
Funeral Services Set for Dec. 1
A funeral service for Allen will be held Dec. 1, at the Mexia High School football stadium. Pastor Bryan Hallmark will officiate.
Interment will follow the service at Salem Cemetery near Freestone.
The family will be present for visitation on Thursday, Nov. 30, from 5 p.m. until 7 p.m. at Bowers Funeral Home in Teague.
He is survived by his wife, Kasey Pickett Allen of Teague; two daughters, Kaitlyn and Madison Allen; one son, Cameron Allen; his parents, Jimmy & Sue Allen of Mexia; three brothers, Ricky Allen & wife Lisa of Tennessee Colony, Ernie Allen & wife Tena of Thornton, and Doug Allen & wife Kristen of Mexia; one sister, Amy Gilmore & husband Jon of Mexia; his mother-in-law, Kathy Pickett; brother-in-law, Charlie Pickett & wife Leslie; numerous nieces, nephews, other relatives and many friends.
The family requests memorials be made to The 100 Club, 5555 San Felipe St., Ste 1750, Houston, Texas 77056-5527 or online at the100club.org.