What to Know
Little Elm police Detective Jerry Walker, a father of four, was killed Tuesday responding to a call about an armed man outside a home.

Suspected shooter later found deceased in a home on the 1400 block of Turtle Cove Drive; it's unclear if he was shot by police or himself

Donations for the Walker family are being accepted at the Capital One Bank - Little Elm Branch on East Eldorado Parkway.
A North Texas police detective was fatally shot Tuesday responding to a call about a gunman who ended up holding police at bay for hours in a suburban Dallas neighborhood before being found dead inside a home.
Little Elm Detective Jerry Walker, 48, was one of a number of officers who responded at about 3:30 p.m. to a report of a man armed with a long gun along the 1400 block of Turtle Cove Drive.
Lt. Orlando Hinojosa, with the Denton County Sheriff's Office, said Tuesday when officers arrived they spotted the armed man in a back yard and that they retreated to a defensive position when he began shouting at police. He was a model officer and someone who will be missed by the department and the town of Little ElmLittle Elm Chief of Police Rodney Harrison
The man, later identified by the Tarrant County Medical Examiner's Office as 46-year-old Rudy Garcia, barricaded himself in the house as patrol officers established a perimeter and activated SWAT to negotiate his surrender.
SWAT officers arriving at the scene began to take up positions along the perimeter. One of those officers was Walker, a SWAT marksman observer who joined a patrol officer near the intersection of Waterview Drive and Turtle Cove Drive, according to Little Elm Chief of Police Rodney Harrison.
Harrison said Wednesday he was at the scene, about 50 yards away from Walker, when they heard a single gunshot that struck somewhere in the intersection. He said he asked Walker over the radio if he knew where the shot came from and that Walker replied that he thought the man was shooting at them.
New Details in Deadly Little Elm Shooting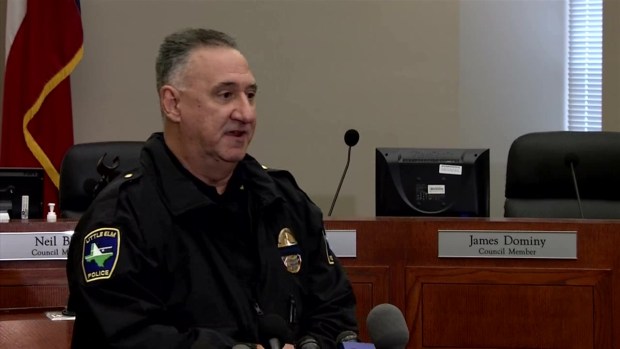 Moments later a hail of gunfire erupted from the home and Harrison said he witnessed the fatal shot being fired at Walker. Two officers returned fire -- the exchange lasting about a minute before the shooting would end, Harrison said.
Walker was critically wounded, shot in the neck and incapacitated. Harrison said two SWAT paramedics and another tactical officer were trying to make their way to recover Walker when a patrol officer positioned his Tahoe SUV between Walker and the suspected shooter's home.
Little Elm Police Officer Killed in the Line of Duty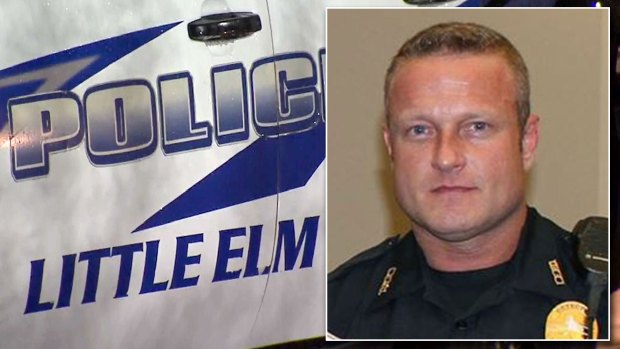 Under the protection of the SUV, the officers were able to get Walker into the vehicle and rush him to another area where he was picked up by an air ambulance. He was then flown to Denton Regional Medical Center where he later died.
Harrison said during a news conference Tuesday night Walker, who joined the department in September 1998, succumbed to his injuries hours after the shooting. He added that Walker was the father of four children ranging in age from a few months old to 22 years old.
Officers Gather at Hospital to Mourn Fallen Little Elm Officer
"He was a model officer and someone who will be missed by the department and the town of Little Elm," said Harrison.
Officers Salute Body of Fallen Little Elm Detective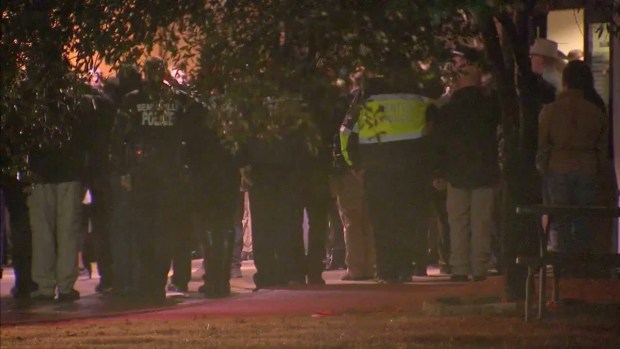 Shortly before Harrison confirmed Walker's death Tuesday night, a bagpiper played "Amazing Grace" as dozens of law enforcement officers from around North Texas lined up under a cold rain to salute Walker's body as it was carried from the hospital to a vehicle bound for the Tarrant County Medical Examiner's Office.
FWPD Air One's view as law enforcement officers from across the Metroplex escorted @LittleElmTX Police Detective Jerry Walker to the TCME. 🙏 pic.twitter.com/d00TayaZuW

— Fort Worth Police OA (@FWPOA) January 18, 2017
Meanwhile, dozens of officers, deputies and state troopers remained in the Little Elm neighborhood where the hourslong standoff with Garcia continued.
At some point early in the evening, an elderly woman, believed to be the Garcia's grandmother, was extracted by police through a first-floor window. After she was removed, police said Garcia was believed to be alone inside the home.
Suspect in Little Elm Officer Shooting Found Dead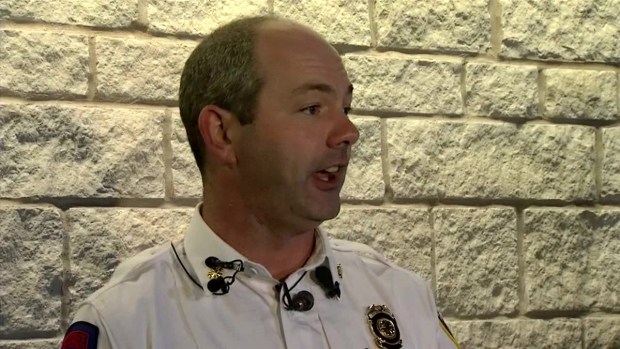 A robot deployed by police to search the home confirmed Garcia was deceased in a front room of the house. It is not clear if he was shot by police or if he took his own life.
While the Tarrant County Medical Examiner's Office confirmed Garcia's name Thursday, they have not yet confirmed his cause of death.
Neighbors Kept Away from Homes During Little Elm Standoff
Harrison said the shooting investigation has been turned over to the Texas Rangers who are looking into the trajectories of rounds from both the suspected shooter and police who fired at the home.
NBC 5 Law Enforcement Expert on Reaction to Officer's Death
Mayor David Hillock knew Walker for more than a decade, his son mentored by the fallen officer in the police explorer's program.
"Jerry was the guy that's kind of always been here," Hillock said. "The town grew up around him pretty much."
Hillock said the town's population was about a thousand people when Walker started as one of the fourth or fifth officers in the department. It has now grown to about 35,000.
"He had such a tremendous influence and I don't think anybody really realized it until Tuesday night," Hillock added. "Frankly I didn't realize how much influence he had. He's really been around for all of it through the years."
Walker is the first Little Elm officer killed in the line of duty, the department said. He is also the first police officer killed in the line of duty in North Texas this year.
There will be a public viewing at Prestonwood Baptist Church located at 6801 Westpark Blvd. in Plano on Monday, Jan. 23 from 6 p.m. to 8 p.m.
Walker's funeral will also be held at Prestonwood Baptist Church in Plano on Tuesday, Jan. 24 at 10 a.m.
Gravesite services are pending.
A memorial fund has been set up for the Walker family -- anyone who wishes to contribute can make a donation at the Capital One Bank - Little Elm branch. You can mail donations to the bank, in the name of the "Jerry Walker Fund" to 2821 East Eldorado Parkway, Little Elm.
City leaders in Dallas, Plano and Corinth have ordered that flags be lowered to half-staff in memory of Walker until Tuesday.
NBC 5's Scott Gordon, Don Peritz, Homa Bash, Holley Ford and Ashleigh Barry contributed to this report.