No one was hurt when a Coppell Independent School District bus caught fire in Irving Wednesday morning, school officials say.
The bus was on its way to Valley Ranch Elementary shortly before 7 a.m. when the driver noticed smoke coming from the engine, according to Coppell ISD spokeswoman Amanda Simpson.
Simpson said the driver, an employee of Durham School Services, "followed protocol" and pulled over, evacuating two students and a monitor on board.
"I want to personally commend the bus driver and bus monitor from our school bus partner, Durham School Services, for following safety protocol and ensuring that the students were safe," Coppell ISD Superintendent Brad Hunt said. "We are fortunate to have such strong drivers and safety monitors. I also want to thank the Irving Fire Department for their quick response to the scene, and for getting the fire out quickly and ensuring all surrounding the incident were safe."
A @Coppellisd bus caught fire this morning in Irving. Two students, driver and monitor are safe, and no injuries are reported. Parents and school (@VRE_STARS) have been notified. Cause is unknown at this time. Will update with more information as available. #CISDinformed

— Coppell ISD (@Coppellisd) October 17, 2018
Video posted to social media showed firefighters at the scene trying to extinguish the flames, which had spread through the entire vehicle.
The Irving Fire Department responded to the scene of the bus fire.
"My hats are off to the bus driver and monitor for doing an outstanding job of getting the students not only to a safe area, but completely off the roadway," said J. Taylor, the Assistant Fire Chief with Irving Fire Department.
Parents and administrators at Valley Ranch Elementary were notified of the incident.
District officials said they are still investigating what caused the bus to catch fire. Meanwhile, three CISD buses that are of the same make, model and fuel will be subjected to additional safety inspections Wednesday.
Watch: Fire Devours Coppell ISD Bus, 4 Escape Unharmed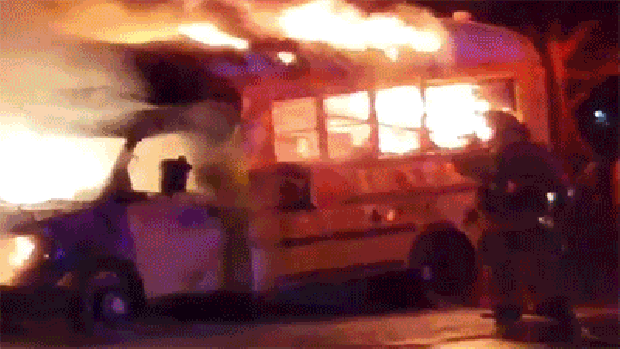 "This is the first incident of this type that has happened with Durham School Services taking over that we've had, other than maintenance issues," Simpson said.
Durham School Services, which is sending a specialized team to assist with the fire investigation, said the bus last underwent an inspection Aug. 3, and that buses are given a preventative maintenance inspection every 120 days and a more comprehensive multi-point inspection biannually.
Durham School Services will also inspect the other buses in the Coppell ISD fleet. Simpson said bus services for students to and from school should not be affected while the buses are inspected.
NBC 5's Lexie Houghtaling contributed to this report.