What to Know
Collin County Medical Examiner's Office to determine person's identity, cause of death

Plano police confirmed they were at the scene as part of the investigation into the disappearance of 23-year-old Christina Morris

Field is less than a mile from a cell tower that pinged Arochi's phone the day after Morris disappeared
Investigators will return to a field in Anna Thursday morning where partial skeletal remains were found Wednesday afternoon.
Multiple police departments were at the scene overnight.

A crew clearing brush and doing excavation work at the site of future housing developments in Anna uncovered a partial human skeleton Wednesday, according to the Collin County Sheriff's Department.
Plano police confirmed to NBC 5 they were at the scene as part of the investigation into the disappearance of 23-year-old Christina Morris, a woman who disappeared at about 4 a.m. Aug. 30, 2014 after last being seen leaving The Shops at Legacy with friend Enrique Arochi.
Until a positive identification is made by the Collin County Medical Examiner, we will have no more public comments on the human remains found yesterday in Anna, TX.

— Collin Co. Sheriff (@CollinCoSO) March 8, 2018
Officials said the skeleton was found in a field in a residential area along the 1800 block of Taylor Boulevard, about a mile east of U.S. Highway 75.
The field is less than a mile from a cell tower that pinged Arochi's phone the day after Morris disappeared, The Dallas Morning News reported.
Medical Examiner to ID Remains Found in Anna Field
In a news conference Wednesday afternoon, Lt. Nick Bristow was unable to confirm any further information about the remains, including the age or gender of the person or what personal property may have been found at the site.
A source confirmed to NBC 5 that clothing was found at the site and that it may help in the identification process.
The remains are being removed and will be transferred to the Collin County Medical Examiner for identification. Overnight Wednesday, the scene will be under guard until the entire area has been processed, Bristow said.
Collin County Officials Update on Unearthed Human Remains
Bristow said the sheriff's department notified the Plano police of the remains due to an ongoing high-profile missing persons investigation in that city.
Plano police added that anytime human remains are found in the area they visit the site and notify the Morris family so that they are aware of the potential for a break in the case.
At this time, police have revealed nothing specific that links the remains found Wednesday to the ongoing Morris investigation. Bristow also confirmed that the area had been previously searched in relation to the Morris case.
Sheriff's Dept. Update on Human Remains Found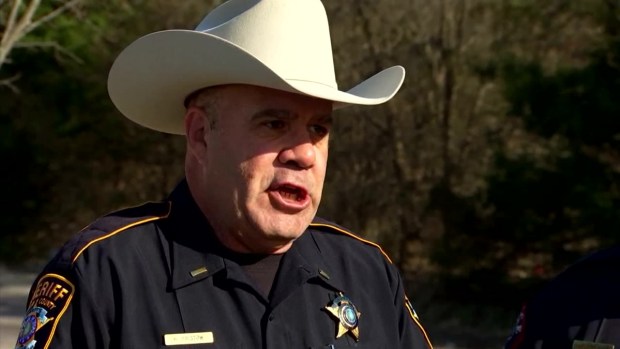 Following Morris's disappearance, Arochi maintained that after he walked into the parking garage with the woman the two separated and he never saw her again. Investigators later found Morris's DNA in Arochi's trunk; he was eventually sentenced to life in prison for her kidnapping.
Neighbors in the Anna neighborhood near where the remains were found are planning a prayer vigil for Thursday night.
"I hope to see the street filled, obviously, and just neighbors coming together and expressing love and concern and compassion for a person we don't know. But we're all brothers and sisters in Christ, and I just need to feel that with my neighbors," said Lekeita McMillan.

Morris, meanwhile, has been presumed dead, but her body has never been located. Anyone with information in Christina Morris's disappearance is asked to call the Plano Police Department or Crime Stoppers at 877-373-TIPS.
NBC 5's Diana Zoga and Allie Spillyards contributed to this report. Check back and refresh this page for the latest update. As this story is developing, elements may change.