A man is dead following a standoff between police and an armed man near IKEA in Grand Prairie.
Police say they responded to a welfare check for a person inside a black, four-door Cadillac near Mayfield and Robinson roads at 1:30 Monday afternoon.
When they approached the vehicle, the driver drove into the back entrance of the store and parked.
Armed Suspect Dead After Standoff With Police Near IKEA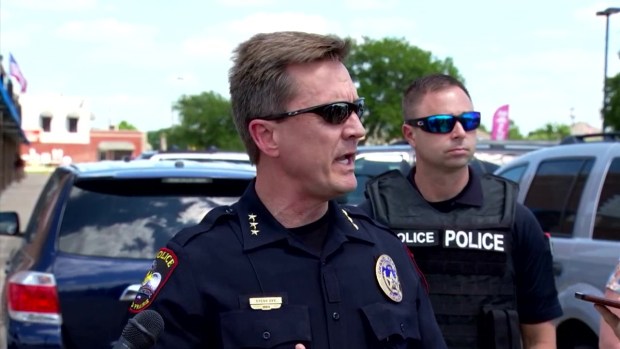 He then showed a gun, which officers believe was a rifle, and fired shots toward officers.

The officers returned fire. Then, with the assistance of the Grand Prairie SWAT team, attempted to negotiate with the man, but police say he didn't verbally respond.
The store was placed on lockdown.

Moments later, the man fired more shots at the officers and the officers returned fire. Then again, police attempted to negotiate with the man. And again, the man didn't speak.
One last time, the man fired more shots and officers shot back. Negotiations were again attempted between law enforcement and the man. The man didn't respond.
After several minutes of no movement in the vehicle, the SWAT vehicle approached the car.
It was determined the man inside was dead. His identity has not been released.

Police say they do not have a motive and the case is under investigation.
No other injuries were reported.
Officers say the suspect doesn't appear to have any ties to IKEA and just happened to pull into the store's parking before the incident took place.
INSIDE THE STORE

Meanwhile, customers and staff inside IKEA were told to stay inside and hide until further notice.
One person tweeted a photo of what looked like dozens of people huddled in the basement of the store.

April 23, 2018
Once the standoff was over, the lockdown at IKEA was lifted.

The store, which opened last Fall, is located on 1000 IKEA Way off the President George Bush Turnpike and Interstate 20.
Check back and refresh this page for the latest update. As this story is developing, elements may change.