Garland police said they surrounded at least one person suspected in three robberies at a Dallas apartment complex Tuesday morning.
Witnesses told police a man robbed them at gunpoint in the 3300 block of Edgewood Drive at 1:45 a.m. Witnesses then reported a second robbery 15 minutes later in the 2000 block of North Shiloh Road.
Police said two people were in a car in the parking lot of a McDonald's near the President George Bush Turnpike and Shiloh Road in Garland when two men robbed them at gunpoint and took their tan Mitsubishi Montero.
Officers later spotted the stolen car and tried to pull it over, but police said the driver bailed out near the Villa Bonita Apartments in the 8400 block of La Prada Drive East.
Police said they think one of the three people suspected in the robberies is inside one of the apartments.
"We are approaching this situation with great caution," Garland Police Department Lt. Pedro Barineau said. "Since we've already recovered one weapon, that leads us to believe that there might be another weapon involved."
Officers are also looking for two other men suspected in the robberies and a silver car seen at the carjacking, according to police.
Armed Carjacking Suspect Surrounded at Dallas Apartments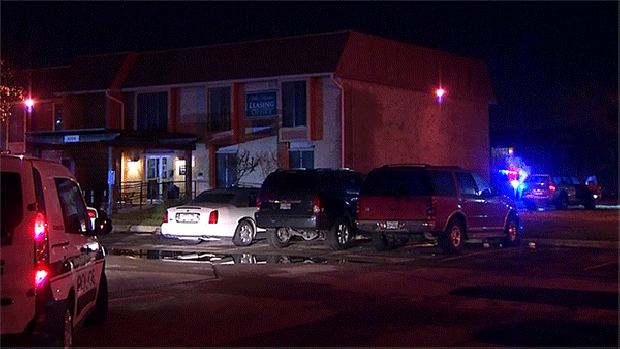 Garland police said they set up a perimeter and requested help from SWAT officers, K-9 units and helicopter.
Barineau said the apartment complex is not on lockdown, but SWAT went door to door asking people to leave for safety purposes.
"This is a very scary situation. This is the real deal," he said. "Our fear is that these people are going to kill somebody."
Police said they took three men who came out of the apartments voluntarily into custody for questioning at about 7:30 a.m. It is unknown if they are involved.
NBC 5's Ellen Bryan contributed to this report.