Two men with automatic weapons were fatally shot by a Garland police officer Sunday after they opened fire outside a art contest for Prophet Muhammad cartoons, injuring an unarmed security guard, police say.
The men drove by the Curtis Culwell Center in Garland at about 7 p.m., as the event was scheduled to end, and opened fire on the officers, Garland officials said Monday morning.
A Garland police officer returned fire, killing both men.
Authorities said they have identified the men, though they have not yet confirmed those identities to the media.
The Garland security guard, 58-year-old Bruce Joiner, was hospitalized Sunday night but was released about two hours after the shooting, police said. Joiner worked for the Garland Independent School District and was unarmed when he was shot.
KPNX-TV, the NBC affiliate in Phoenix, reported the two gunmen shared an apartment in that city. The Associated Press reports FBI agents were searching the apartment Monday morning for indications of what may have led to the shooting.
#BREAKING NEWS: FBI confirms both suspects in Dallas shooting were roommates @ #Phoenix, AZ apt complex. #12News

— Chris Williams (@chriswnews) May 4, 2015
Authorities said they searched the gunmen's vehicle for explosives, saying, "Because of the situation of what was going on today and the history of what we've been told has happened at other events like this, we are considering their car (is) possibly containing a bomb."
Police Investigate Car Possibly Used in Shooting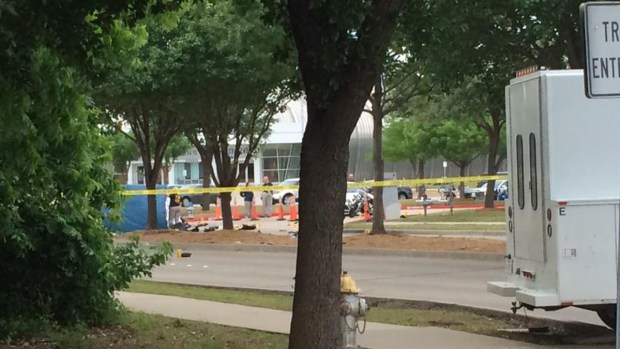 Police said they evacuated the center and surrounding businesses following the shooting.
Tammie Hartnell, who was inside a nearby Walmart at the time of the shooting, said police told everyone to leave immediately.
"We heard a bunch of popping," Hartnell's husband Brant said. "We thought it was fireworks."
2 Killed Outside Prophet Muhammad Art Event
Event Hall Hosts Provocative Art Contest
The Curtis Culwell Center, a school-district owned public events space, was hosting a contest by the New York-based American Freedom Defense Initiative that would award $10,000 for the best cartoon depicting the Prophet Muhammad.
There is no word yet if the shooting is related to the contest.
The event featured speeches by American Freedom Defense Initiative president Pamela Geller and Geert Wilders, a Dutch lawmaker known for his outspoken criticism of Islam. Wilders received several standing ovations from the crowd and left immediately after his speech.
Wilders, who has advocated closing Dutch doors to migrants from the Islamic world for a decade, has lived under round-the-clock police protection since 2004.
Legal Expert Discusses Garland Shooting
Drawings such at the ones featured at the Texas event are deemed insulting to many followers of Islam and have sparked violence around the world. According to mainstream Islamic tradition, any physical depiction of the Prophet Muhammad — even a respectful one — is considered blasphemous.
Ahmadiyya Muslim Youth Association President Dr. Bilal Rana released a statement condemning the shooting.
"We stand by our fellow Americans in shock and horror at today's shooting," the statement read. "Our faith calls us to engage in dialogue. So we condemn any use of violence to intimidate anyone."
Garland Police on Shooting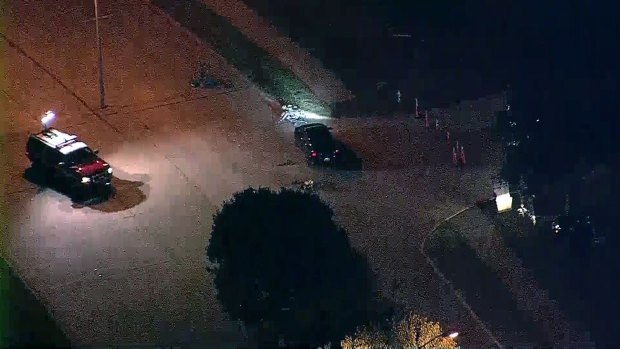 "Texas officials are actively investigating to determine the cause and scope of the senseless attack," Texas Gov. Greg Abbott said in a statement. "Our thoughts and prayers remain with all those affected tonight."