What to Know
Dallas' historic Ambassador Hotel was consumed by fire May 28. What remained after the fire was brought down by a wrecking ball.

Building was being renovated to include residences, shops, restaurants and a rooftop pool. The developer will move forward with the site.

Building, first built in 1904, was a Texas State Landmark and was recently added to National Register of Historic Places.
Dallas' landmark Ambassador Hotel is no more, consumed first by flames Tuesday morning before the remaining shell was brought down by a wrecking ball that night.
Firefighters with Dallas Fire-Rescue arrived at the former luxury hotel at 1312 South Ervay Street at about 1:30 a.m. to find the six-story building engulfed in flames.
As plumes of thick smoke billowed over Interstate 30 blinding drivers well before dawn Tuesday, more than 100 firefighters attacked the inferno in the dark.
DFR used multiple ladder pipes, engine master streams and ground lines to try to put the fire out, but the flames were too strong and moved too quickly to be contained. I'm in shock. Brokenhearted. Disappointed.Jim Lane, Ambassador developer
The building collapsed in stages, Dallas Fire-Rescue said, leaving behind just a shell of the facade that was too dangerous to leave standing. A wrecking ball was brought in Tuesday afternoon to knock down the remaining portions of the walls.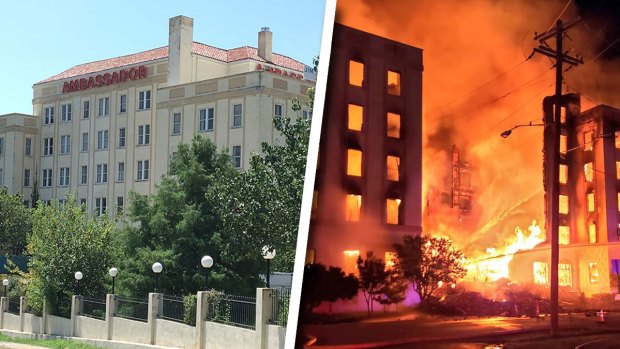 Look Back: Restoration Underway as Fire Destroys Ambassador
Drone Video: Ambassdor Hotel Smolders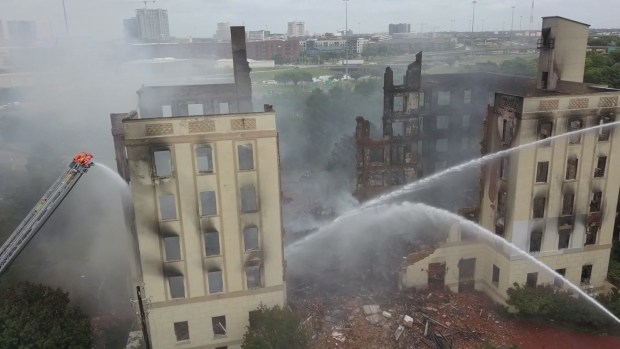 Only a caretaker, living in a trailer on site, was at the property when the fire started. The man told NBC 5 someone knocked on the door of his trailer at 1:05 a.m. and told him to get out. He said he walked outside, saw the flames, grabbed his dog and ran. No injuries were reported.
The six-story hotel was undergoing renovations first begun in 2017 to add residences, shops, restaurants, a swimming pool and a speakeasy bar. NBC 5's Ken Kalthoff toured the building in 2017, shooting several 360-degree videos of the rooms, rooftop and entry prior to renovation. See the tours here.
The damage was so extensive that investigators said they may never be able to determine what sparked the fire.
Raw: Wrecking Ball Chips Away Ambassador's Exterior
Embers from the fire started a secondary fire on the roof of a nearby building on Harwood Street. Firefighters were able to quickly put out that fire.
Several roads in the immediate area of the hotel were closed after the fire. As of Wednesday, those included Gano Street, Bellview Street, Browder Street, Griffin Street and Blakeney Street.
Roads closed in Dallas due to Ambassador Hotel Fire. #DFWTraffic@nbcdfwpic.twitter.com/FIYQLmJQI5

— Samantha Davies (@SDaviesNBC5) May 29, 2019
Ambassador's History
A local architect designed and built the Ambassador Hotel, originally the Majestic Hotel and later the Park Hotel, in 1904 in Dallas' Cedars neighborhood. The hotel took its current name in 1932, after a major renovation to the building's exterior, according to a landmark designation report. During it's heyday, it hosted three United States presidents -- Theodore Roosevelt, William Taft and Woodrow Wilson. In the 1950s the building was converted to a residential retirement hotel and in 1965 it received it's designation as a Texas State Landmark. In 1981 it was sold and the new owner returned the building to its former elegance as a hotel. In 1993 it was again sold with the new owner's intent on establishing the Institute in Basic Life Principles -- a home to help troubled Dallas youth.
On April 4, 2019, the building, which sits adjacent to Dallas Heritage Village, was added to the National Register of Historic Places after being nominated by the Texas Historical Commission.
Ambassador Developer 'In Shock, Brokenhearted' After Fire
Developer Jim Lake, who has been working on the project, said he was "in shock, brokenhearted and disappointed" after losing the building and that they had recently received approval to change the street configuration around the building, which was one of the holdups with the project.
Lake said Tuesday he would start over on a new project on the property. It would still bare the name Ambassador and he'd try to reuse as many salvageable building materials as possible, but it will not be the Ambassador Hotel built in 1904.
"You can't recreate history. History is history. It will never be reclaimed," Lake said. "We can tell the story in whatever comes next."
Raw: Massive Fire Destroys Ambassador Hotel in Dallas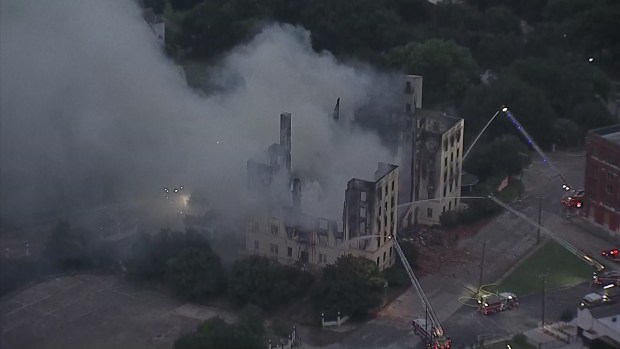 Remembering the Ambassador
Many people who either lived in the area or once had a personal connection to the building came out to see the damage for themselves Tuesday afternoon.
It's really sad. There's so much history in that building.Joel Christopherson
Joel Christopherson, who said he worked as a volunteer at the Ambassador when he was a teenager, recalled the basement, in particular, which was once used as a speakeasy.
"There's an old tunnel in the basement where there was gambling," he said. "They would run across the street and go to the stables to get away from police."
Former Employee Remembers Working Inside Ambassador Hotel
Those old stables have since been renovated into the tap room of the neighboring Four Corners Brewery.
"I like the fact that we actually still have a piece of the Ambassador sitting right here on our property," said Four Corners Owner Steve Porcari.
The promise of a new life for that landmark at the edge of the downtown skyline was driving much of the revitalization energy in the surrounding Cedars neighborhood. City leaders know it's a loss.
"You lose that potential that could've been there," said Mark Doty, Dallas' Chief Planner Historic Presevation Officer. "If we had had that building restored what maybe that could've done to the neighborhood around it."
Ambassador's Neighbors Say Goodbye to Landmark Hotel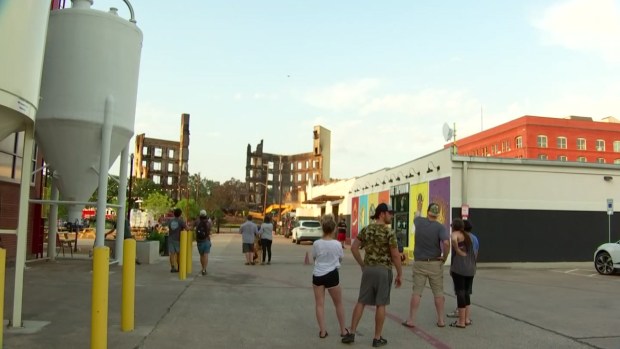 The surrounding business owners are still committed to moving forward. But they'll do it with a hole in the very history they're trying to save.
"I think everything will be OK," Porcari said. "It's just, it was such a cool building. It's hard to see it go."
NBC 5'S Eline de Bruijn, Tim Ciesco, Alice Barr, Maria Guerrero and Frank Heinz contributed to this report.
Massive Fire Guts Dallas' Landmark Ambassador Hotel
Massive Fire Destroys Ambassador Hotel in Dallas