Relatives of the man who died on the Dallas County Jail lobby floor August 1st filed a federal civil rights violation complaint Tuesday, asking the U.S. Department of Justice to investigate.
James "Eddie" Hutcheson said his brother, Joseph Hutcheson, should not have died when he entered the jail asking for help Aug. 1. The 48-year-old Arlington man was only a visitor at the jail and was not under arrest.
"I want the federal government to go in and take over this investigation and do it properly," James Hutcheson said. "That would make me feel better about it. You clearly have a video of the whole incident."
Dallas County Sheriff Lupe Valdez released the lobby surveillance video last month, but sheriff's department officials have said their internal investigation of the incident is not finished.
The silent video shows Joseph Hutcheson entering the jail lobby acting erratically and then deputies struggling to restrain him. At one point a deputy appears to hold Joseph Hutcheson to the floor with a knee to his neck. The man later appears to lose consciousness and deputies work to revive him.
Hutcheson family supporter, the Rev. Jeff Hood, with the organization Hope for Peace & Justice, said the video demonstrates a lack of training for sheriff's employees, excessive force and lack of proper care to revive the victim after he lost consciousness.
"I cannot imagine any situation where anybody would want their family member treated like this," Hood said. "Over and over and over the Dallas County Sheriff's Department had the chance to save the life of Mr. Hutcheson and they didn't."
Hood said he believes it was a "clear case of police brutality."
The Dallas County Medical Examiner ruled the death a homicide and noted that cocaine and methamphetamine use were contributing factors. Family members commissioned their own autopsy but that doctor said portions of the victim's neck were missing from the body turned over by Dallas County for burial.
"Why are they hiding that? Why did they remove it?" James Hutcheson said.
A sheriff's department spokesman did not return a message for comment Tuesday afternoon.
UNCUT VIDEO: Arlington Man Dies in Dallas County Jail Lobby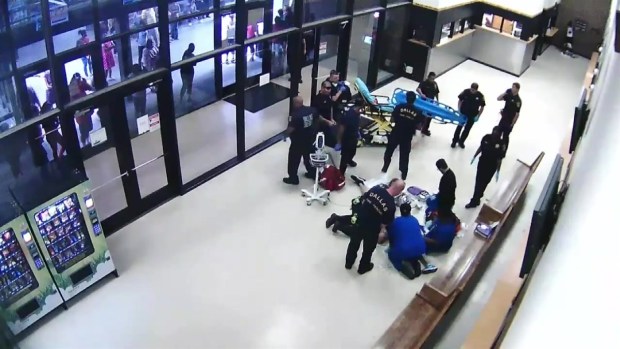 NBC 5's Todd L. Davis contributed to this report.