Hiram Patterson and members of the Texas Division of the Sons of Confederate Veterans have filed a lawsuit halting the removal of a statue of Confederate General Robert E. Lee from Dallas' Lee Park.
"It's a historical figure," said Patterson. "I don't believe in taking down historical figures, right or wrong, for what they did."
Temporary Restraining Order Halts Removal of Dallas' Robert E. Lee Statue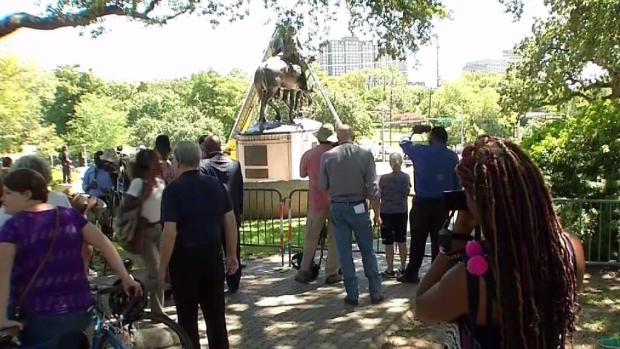 U.S. District Judge Sidney Fitzwater granted the TRO hours after members of the Dallas City Council passed a resolution Wednesday morning calling for the statue's immediate removal. A hearing on the TRO is scheduled for 1:30 p.m. Thursday.

The former Commander of the Texas Division of the Sons of Confederate Veterans, Gary Bray, raced to deliver the TRO and stop the statue's removal.
"The monument means a lot to me," said Bray. "Had to hit that first line of police and tell them I had an order from the judge."
The City Council voted 13-1 Wednesday morning to immediately remove the statue.

13-1 @CityOfDallas vote to remove Lee Statue and let task force finalize location. @NBCDFW#NBCDFWNowpic.twitter.com/GmHHRrwRWd

— Ken Kalthoff (@KenKalthoffNBC5) September 6, 2017
Former Dallas State Representative Will Hartnett spoke against resolution.
"I doubt that you have any idea how much money this purge will cost taxpayers," he said. "If you carry through with this resolution, the cost will be in the many millions of dollars."
The resolution also instructed a Mayor's Task Force to review other monuments and streets named for Confederate figures with additional City Council action possible in November.
Former Council Member Diane Ragsdale spoke in favor of the resolution.
"The confederacy was about racism and White Supremacy and so are the monuments dedicated to this cause," she said. "These monuments are not just stone and metal. They are not public art. They are symbols of a hateful past."
City Council Member Sandy Greyson was the only 'no' vote. She wanted the Lee statue to be included in the Task Force review instead of being immediately removed.
"I'd like to give the Task Force time to do its work as the original charge was made to it by the Mayor," Greyson said.
Councilman Rickey Callahan also spoke against removing the Lee Statue but he was out of the room when the final vote was taken.
Councilman Philip Kingston had pushed for immediate removal of the Lee Statue from the park in his City Council District.
"We do not need a task force to tell us right from wrong," Kingston said. "We are capable moral leaders."
Councilman Dwaine Caraway praised the City Council decision.
"To be here now, righting the wrong that was done, feels great for me today," he said.
City crews arrived at Lee Park a short time later and began preparing the statue for removal. The Lee Statue was to be taken to Hensley Field for storage as the Task Force discusses options for a future location. It would not be destroyed. At the same time, Dallas police officers in tactical gear began appearing around the park, directing a growing number of onlookers a safe distance away from the park though none appeared to be protesting the statue's removal.
The TRO was signed by a district court judge at 3:30 p.m. and, about an hour later, workers securing the statue with straps for removal stopped working.
Dallas City Council Considers Removing Confederate Statue
Before the TRO was announced, Lee Park and the Arlington Hall Conservancy issued a statement supporting the council's decision to move the city-owned statue while bringing up what to do with the signature corner once the statue is gone.
"The Conservancy stands ready to work with the City on the next generation for one of the most treasured parks in Dallas. This statue is owned by the City, not the Conservancy. We are entrusted with the park's beautification and maintenance, and over twenty years, the Conservancy has helped build a solid foundation and created a true urban oasis.


"There are a couple of important issues for this transition. First, there are established and lengthy protocols for park naming. We are hoping that process can be expedited, and the Council will simply return the park's moniker to Oak Lawn Park which was the original designation of the property when the park was established in the early 1900s. Secondly, the monument's departure will leave a prominent, signature corner empty; it's a vacancy we will need to address. Overall, our board is committed to the preservation of what we call a 'mini-Arboretum' that is close to thousands of homeowners and businesses. Finally, we do applaud the Council's commitment to make this decision a healing cornerstone and a positive for our collective future."
Dallas City Council Members Push for Removal of Monuments
Several Dallas City Council Members, including Mayor Pro Tem Dwaine Caraway, arrived at the park and took photos in front of the monument before the removal process began.

The future on the remainder of Confederate monuments in the city, and where the Lee statue will be housed, will be determined by Dallas Mayor Mike Rawling's task force.
Officials in Austin, Houston and San Antonio are also in the process of either removing or studying what to do about Confederate memorials and names. The University of Texas last month removed statues on its campus.
Crowds Gather at Lee Park While Crews Prepare to Remove Statue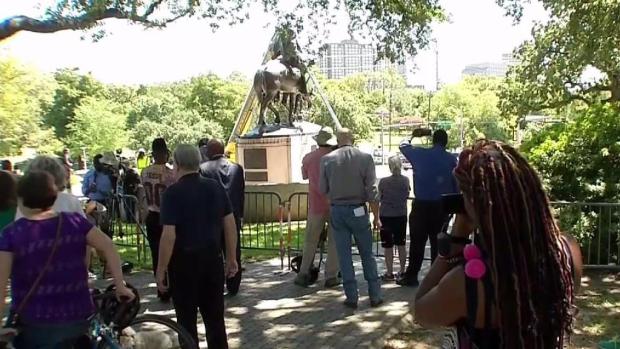 During a joint news conference last month with other black members of the Dallas City Council, Caraway said, "We stand in solidarity to say that those statues must be and will be removed."
Among those who are pushing council members to exhibit patience regarding the fate of one statue in particular is Dr. Rick Brettell, founding director of the Edith O'Donnell Institute of Art History at the University of Texas at Dallas.
"I do understand that there is a movement today to sort of cleanse ourselves of the racism of the past," he said. "And that movement is now focused not on changing our behavior or changing our ideas of history but in taking out our vengeance on sculptures."
Brettell, the art critic for The Dallas Morning News, wrote a piece Sunday in defense of the statue of General Robert E. Lee alongside his associate at Dallas' Lee Park in Turtle Creek.
"The conversation is important and it proves the power of works of art," he said. "What I felt is the person who was left out of the conversation was the artist."
Brettell noted that prominent sculptor A. Phimister Proctor completed the statue in 1936, and that his depiction is the first and only equestrian monument in Western art history in which a powerful man is shown next to an ordinary man, both on horseback.
"[Proctor] was a person who believed absolutely in his fiber that slavery was wrong. The reason that he accepted the commission was because Lee was a figure in American history, he was a person who turned what were rebels under his command into Americans," Brettell said.
Lee's associate is believed to be a freed slave, according to Brettell, which is a point that should not be lost during the current debate.
"It creates a whole moral conundrum for us. I mean what do we think about that? A man once forced to be a slave [and] the idea that a white man and a black man are riding from the Confederacy into America, into a new world, was an idea that was so powerful to Proctor," he noted.
There are others who oppose the idea of removing the Confederate statues on a more personal level.
Marshall Davis is a representative of the Texas Division of the Sons of Confederate Veterans, a Southern advocacy organization open to all male descendants of any veteran who served honorably in the Confederate armed forces.
"It is tragic that we would vilify the Confederate soldier for his service to his country," Davis said. "Nothing has changed about the Confederate soldier or their service. There is no new history. All that has changed is public opinion. We don't feel that is enough to justify their removal."
Judge Grants Temporary Restraining Order

NBC 5's Ken Kalthoff contributed to this report.