North Texans helped Clear the Shelters on Saturday, finding more than 2,900 pets new homes. Since the promotion of Clear the Shelters started on July 27, more than 3,100 animals were adopted bringing the grand total to more than 6,000 pets placed in new homes.
"It's a good cause, finding all of these animals good homes. It's just the right thing to do," said Ryan Carreker, who adopted a pet Saturday.
Eleven shelters in the Dallas-Fort Worth area reported having no pets left to adopt as of 5 p.m. -- Arlington Animal Services, the Bedford Animal Shelter, Burleson Animal Services, Dallas Animal Services, Animal Hope Pet Adoptions in Fort Worth, the Humane Society of North Texas' Keller adoption center, the Humane Society of Cedar Creek Lake, Terrell Animal Adoption Center, Watauga Animal Control, Weatherford Animal Shelter and Wylie Animal Services.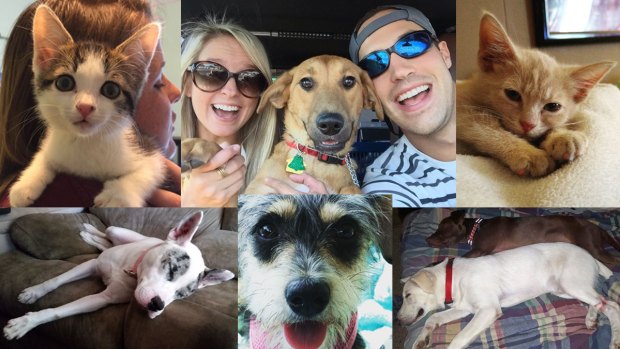 Newly Adopted #ClearTheShelter Pets
The day wasn't just about puppies and kittens. Michelle Lombardi and Whytney Blythe took home 12-year-old Diesel and 5-year-old Sissy.
"Even though we won't get to spend as much time with them as we'd like, at least we can make the end of their lives as best as we can," they said.
Leona, a mix-breed dog that had been the Irving shelters' longest resident finally went home Saturday. Shelter workers cried and hugged Leona as she went to her forever home during NBCDFW.com live coverage. Her new owner, Pearson, said Leona was the first dog he saw and that he fell in love with her calm and laid-back demeanor.
George, pot-bellied pig, was also a superstar. He went home with the Kershners where he'll live on a farm.
At the SPCA of Texas in Dallas, the last adoption may have been the happiest for shelter workers.
The Bills family of Mesquite adopted Powder, a 5-year-old boxer. She had lived a life of abuse and was used for breeding. Shelter workers rooted for Powder to get adopted because she had been passed over so often.
When the Bills family picked her she lit up and smothered her new family with hugs and kisses.
What started out as an NBCDFW partnership with local shelters to help animals find loving, forever homes in Dallas-Fort Worth has turned into a nationwide initiative that helped find more than 17,300 animals homes.
Thousands of animal shelters across the country, along with NBC Owned Television Stations, Telemundo Owned Television Stations and the New England Cable News, took part in Clear the Shelters, a nationwide project and waived most adoption fees during the one-day event.
NBC 5 started the animal adoption initiative in 2014, and NBC's commitment is set to continue next year as well.
If you adopted a pet on Saturday, email your photo to isee@nbcdfw.com. Include your name, your pet's name and the name of the shelter!
Thousands of Pets Find New Homes in Clear the Shelters