Dallas police and the FBI are investigating a series of bank robberies, the latest in which gunshots were fired, police say.
Officers were called Wednesday to the Bank of Texas on the 4200 block of Live Oak Street shortly after 10 a.m. after two men entered the bank armed with handguns.
The men demanded cash and at some point fired shots inside the bank.
During a news conference Wednesday afternoon police said that no injuries were reported but that they worry the robbers are getting more dangerous.
Dallas Police Searching for Serial Bank Robbers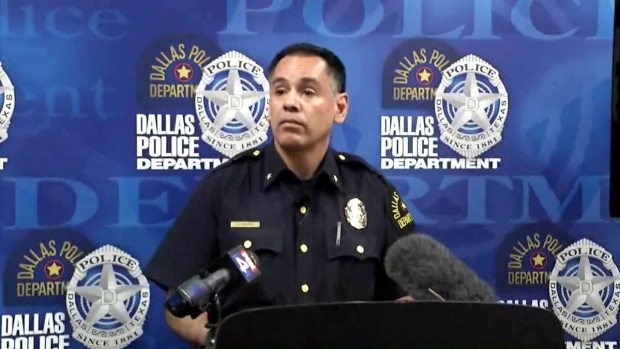 "Absolutely, that's why we're here today, to make sure that the public is aware of that," Dallas Police Deputy Chief Thomas Castro said. "We're working hand in hand with our federal partners. These are federal crimes. The FBI takes the lead on these cases and our task for will supplement our federal partners in any way we can."
Investigators believe the men may be responsible for as many as nine other bank robberies -- including one at UMB Bank in Dallas where shots were also fired.
Feb. 1 – Bank of Texas 4262 Live Oak, Dallas
Jan. 24 – UMB Bank – 4228 N. Central Expressway, Dallas
Jan. 23 – BBVA Compass – 6240 Mockingbird Lane, Dallas
Jan. 4 – UMB Bank – 4228 N. Central Expressway, Dallas
Dec. 29, 2016 – Bank of Texas – 4262 Live Oak Street, Dallas
Dec. 20, 2016 – Chambers Bank – 4418 Towson Avenue, Fort Smith, Arkansas
Dec. 16, 2016 – Chase Bank – 6310 E Mockingbird Lane, Dallas
Dec. 14, 2016 – Capital One Bank – 3647 W Northwest Highway, Dallas
Dec. 14, 2016 – Wells Fargo Bank – 4301 Lovers Lane, University Park
Dec. 12, 2016 – Bank of America – 4023 Cedar Springs Road, Dallas
In each of the robberies, police said the men verbally demanded money, obtained an undisclosed amount of money and ran from the bank. In most of the robberies the men displayed handguns.
Dallas Police Hunt for Serial Bank Robbers
The men are described as follows:
Person number one: a white man in his late 20's or early 30's, 6 feet to 6 feet 4 inches tall and weighing approximately 210 pounds with a medium build. He has a light complexion and short, blonde hair. He has worn a sweatshirt or jacket in each robbery with a ball cap or sunglasses to conceal his identity. Suspect was armed with a handgun.
Person number two: a white man who is about 6 feet tall, wearing a black ball cap, black ski mask only covering the lower part of his face, armed with a revolver.
Police: Dallas Police Called to bank Robbery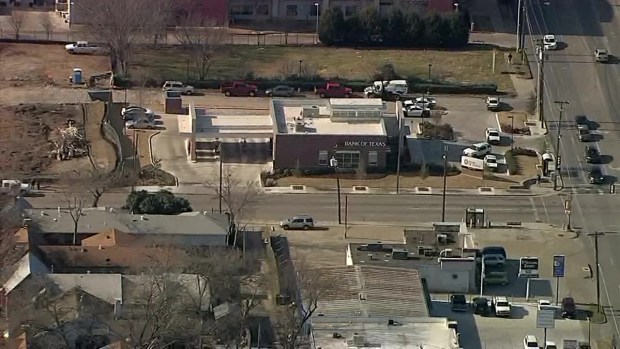 The cases are being investigated by the Dallas FBI Violent Crimes Task Force and the Dallas Police Department. Investigators are seeking the public's assistance in identifying the men recorded on surveillance video. North Texas Crime Stoppers is offering a reward of up to $15,000 for information leading to the arrest and conviction of these individuals.
Anyone with information on the identity of these suspects are asked to call North Texas Crime Stoppers at 1-877-373-TIPS (8477). All tipsters remain anonymous.
NBC 5's Ken Kalthoff contributed to this report.