Parts of far north Fort Worth remain under a boil water notice on Thursday night.
The notice was issued to water customers at about 2 a.m. Thursday.
The affected area is bordered by Sendera Ranch Boulevard on the north, Willow Springs Road on the west, Haslet city limits on the east and Bonds Ranch Road on the south. The boil water notice also includes the Trails of Fossil Creek and the Fossil Hill subdivisions.
The issue, according to water director John Robert Carman, happened Wednesday night at a water tower on Harmon Road. At 7:30 p.m. the tower drained in error. The problem lasted only for about 10 minutes.
When the water pipes de-water and de-pressurize, there is a chance bacteria in the ground water could seep into the pipes and contaminate the water.
The Texas Commission on Environmental Quality required the city to inform customers of the need to boil their water. Once the city has determined the water is safe the notice will be lifted.
Boil Water Order Impacting North Texans
Water department employees took samples from throughout the impacted area on Thursday to determine the water's quality.
"I'm confident we'll pass that test, but if not we'll extend that notice," Carman said. "We certainly want to provide a safe and reliable product to our customers. This has been an inconvenience to the folks in that neighborhood, we regret that, but we think it's important to make sure the water is safe."
At the city's Rolling Hills Water Treatment Plant in south Fort Worth city microbiologists work everyday to ensure the quality of the city's drinking water.
"We do tests five days a week, Monday through Friday," said senior microbiologist Isabel Carrillo. "We have process control samples that we run."
The state requires the city to perform at least 270 water samples a month. Thursday's samples won't count toward that total, but it will determine if any bacteria formed in the pipes during the failure.
Carrillo demonstrated the process samples go through. What amounts to "food" is placed in each sample. That food will reveal if bacteria is present after a 20 minute hot bath and then incubation in 35 degrees for 18 to 24 hours.
The samples from the impacted area should be available for review around 5 a.m. on Friday. At that point city officials can determine if the boil order can be lifted.
City of Fort Worth Issues Boil Water Notice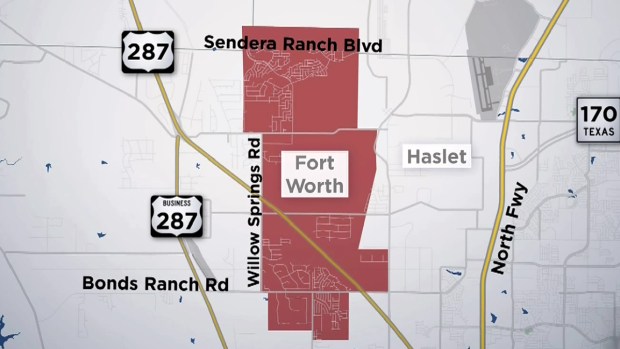 City officials estimated 3,500 customers, mostly homes, were impacted. However, with so much growth in the area Carman said it may be as high as 5,000.
The water boil notice was expected to last through Friday afternoon, at the earliest.
The city will inform impacted residents through the Nixle alert system about any changes.
Schools Impacted
According to a news release from the Northwest Independent School District, impacted schools include:
V.R. Eaton High School
Truett Wilson Middle School
Sonny & Allegra Nance Elementary School
Carl E. Schluter Elementary School
J.C. Thompson Elementary School
Sendera Ranch Elementary School
Aramark were able to provide breakfast and lunch for students this week by using prepackaged food, according to district officials. There will be no fresh fruit or vegetables served. Juice, milk and bottled water will still be served to students.
Six Northwest ISD Schools Impacted by Boil Water Notice
Businesses Coping Without Water
In addition to residents, businesses throughout the area were having to use bottled water.
At Avondale Haslet Animal Care even the animals were receiving bottled water.
"We're going to use bottled water at this facility for personal use, as well as our pets," said Dr. Jim Jordan. "We're not going to take any chances with our pets as well."
A dentist's office along Avondale-Haslet Road was not impacted however, as it uses well water. The same goes for the Willow Springs Golf Course, according to the city's code compliance department.
While the water department said restaurants in the effected area would be closed during the notice, the city's code compliance department says there were no impacted restaurants.
NBC 5's sister station Telemundo 39 did report that a Pizza Hut was closed with a sign saying it was due to the water issue. However, that restaurant is west of Willow Springs Road.
Two daycare facilities inside the boil water notice area were advised they could only provide pre-packaged food and bottled water.
For more information on food establishment closures, call Consumer Health at 817-392-7255.
Residents, Business Adjust Under Boil Water Notice
Water Bottles
The city planned to give out thousands of water bottles to those impacted by the notice. Vehicles can pick up one package of bottled water as long as the boil notice remains in effect.
Bottled water may be picked up at V.R. Eaton High School at 135 Eagle Blvd. and Truett Wilson Middle School at 14250 Sendera Ranch Blvd.
For a time Thursday residents could also pick up water at local fire stations, but that service ended on Thursday evening.
Residents may contact Water Customer Relations at 817-392-4477
NBC 5's Todd L. Davis, Deborah Ferguson and Ben Russell contributed to this report.
Published at 4:01 AM CST on Feb 4, 2016 | Updated at 4:45 AM CST on Feb 5, 2016