The body of a Dallas firefighter killed in a helicopter crash Sunday in New York City returned home Tuesday to a hero's welcome.
Brian McDaniel and friend Trevor Cadigan, both 26, were among the five people who died after the helicopter in which they were riding went down in the East River.
The medical examiner's office ruled the victims' deaths accidental and said each died from drowning.
Only the helicopter pilot survived.
Plane Carrying DallasFirefighter Arrives at D/FW Airport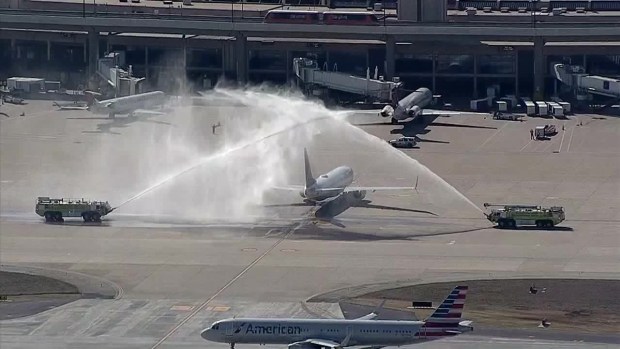 The United Airlines plane carrying McDaniel's body arrived at Dallas/Fort Worth International Airport to a water cannon salute from D/FW firefighters.
Several of McDaniel's fellow Dallas Fire-Rescue firefighters met the plane at the gate, and they were joined by D/FW Airport firefighters in paying their respects as the casket draped in an American flag was transferred to a hearse.
A fire engine and ladder truck from the station where McDaniel worked, Station 36, then helped lead a procession from the airport to an East Dallas funeral home.
Cadigan's family has filed a lawsuit against Liberty Helicopters and others following the deadly crash. The suit calls the passenger harness systems a "death trap" in a water crash.
Liberty Helicopters has referred all inquiries to federal officials.
Dallas Fire-Rescue Remembers Firefighter Killed in Crash