A customer with a license to carry a concealed handgun fatally shot a gunman to "prevent further loss of life" after the man shot and killed an employee, police say.
Police said 48-year-old James Jones walked into Zona Caliente Sports Bar & Grill in the 6500 block of South Cooper Street just after 6 p.m.
According to witness accounts, Jones verbally confronted the restaurant's manager, identified as 37-year-old Cesar Perez, and then fatally shot him.
Arlington Restaurant Shooting Aerial Images (Raw Video)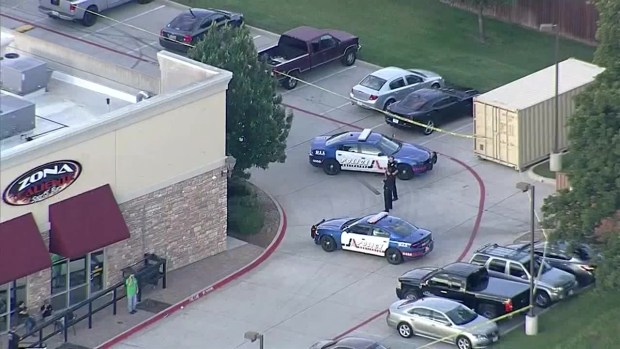 Lt. Christopher Cook said a customer then confronted and fatally shot Jones.
"By all accounts, he decided to engage the shooter because he wanted to prevent further loss of life," Cook said.
On Thursday, police said Jones was armed with two handguns and two knives when he entered the restaurant.
Investigators said they weren't sure if Jones and Perez knew each other and they revealed no motive in the shooting.
We are working a shooting call with 2 confirmed deceased. 1 of the 2 deceased is believed to be the shooter. Location was a restaurant/bar pic.twitter.com/MIonmvrA9L

— Arlington Police, TX (@ArlingtonPD) May 4, 2017
Arlington police processed the restaurant for evidence late Wednesday. Detectives planned to interview employees and customers who were inside at the time.
There were no other injuries reported.