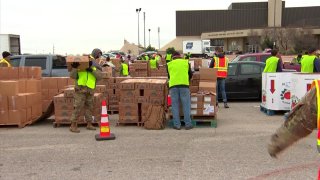 Many people in North Texas are having trouble putting food on the table during these rough times. But the Tarrant Area Food Bank hopes to change that this week.
The organization hosted a week full of Mega Mobile Food Markets where all residents of the Tarrant area community who are in need of food assistance, and anyone whose access to nutritious food has been affected by the COVID-19 pandemic.
TAFB reported on Twitter Thursday that it had given out 60 million means already in 2020.
On Friday, the Mega Mobile Market is planned for 10 a.m. to 1 p.m. at Herman Clark Stadium in Fort Worth.
Four others are also planned around Fort Worth Friday:
Last week's Mega Mobile Market at Herman Clark Stadium was able to feed 2,514 families.
Another TAFB food distribution is scheduled for Saturday from 10 a.m. to 1 p.m. at Birdville ISD Plaza in Haltom City.
Local
The latest news from around North Texas.
Tarrant Area Food Bank is still always seeking volunteers, sign up here: tafb.galaxydigital.com.