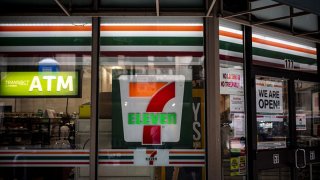 Instead of marking "7-Eleven Day" on July 11, this year the convenience store chain will offer deals to customers for the whole month.
To kick off its 94th birthday celebration, 7-Eleven will give all 7Rewards app members a free small Slurpee coupon that is redeemable for the whole month of July.
All customers will be able to pick up a small Slurpee and all roller grill items for $1 the whole month of July. Plus, rewards members will receive a coupon in their app for a 50-cent donut on July 11.
"7‑Eleven's birthday falls in the middle of Brainfreeze SZN," 7‑Eleven Senior Vice President and Chief Marketing Officer Marissa Jarratt said in a written statement. "Or as some people call it, summer. Regardless, it's a perfect time for a freezing cold drink and we like to celebrate it with Slurpee drinks, our favorite 7‑Eleven memories, experiences and a month-long party."
For more information, click here.