Six people were hospitalized after a boat caught fire on Lake Weatherford Saturday afternoon, authorities say.
Weatherford police and fire departments, as well as Texas Game Wardens responded to a call for the fire near the Lake Weatherford Marina at approximately 3:19 p.m., police said.
Nine people ranging in age from 2 to 60 had been on the boat at the time, according to the Texas Game Wardens.
Four of the passengers were taken to the hospital by helicopter and two others were transported by ambulance, police said.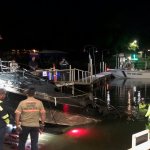 The five people who were taken to Parkland Memorial Hospital for burn treatment were reported to be in stable condition, according to the Game Wardens.
The most severe injuries were second-degree burns, and one person had burns covering about 40% of their body, officials said.
Local
The latest news from around North Texas.
The explosion appears to have been caused by fuel vapors in the bilge of the boat, which exploded when the boat left the marina after fueling, according to the initial investigation from the Texas Game Warden.
Crews later recovered the boat, which sunk at the opening of the marina, according to police.