A 54-year-old woman was fatally shot during a street racing incident Sunday night in southern Dallas, police say.
Lynetta Washington, 54, was struck by gunfire as she walked near the 4300 block of Duncanville Road. Street racers had shut down the nearby intersection when an unknown gunman opened fire, striking Washington, police said.
"We believe there was no communication between her and the racers. She was walking towards her car, and just possibly got hit by a stray bullet. At this time we don't have any indication there was any type of altercation between her and the speeders," Deputy Chief Terrance Rhodes said.
Washington was pronounced dead by Dallas Fire-Rescue paramedics who responded to the scene of the shooting.
Washington's daughter Angel Durr said she'd spoken to her mother earlier that day. Several hours later her phone started buzzing nonstop.
"I started getting calls from family members out of the blue which is pretty odd at that time of night," Durr said. "So I looked, and I saw a message that said my mom was dead."
Local
The latest news from around North Texas.
She said she's desperate for information that will help solve the case.
"We just want to know that something happened and that somebody is going to take responsibility and ownership for what happened because my mom had a lot of life left," Durr said.
No arrests have been made and Rhodes said there was no suspect information Monday.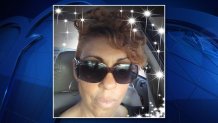 Durr shared pictures of her mom with NBC 5. She said Washington lived in an apartment on Duncanville Road, just south of where the shooting occurred.
A GoFundMe page established by relatives said Lynetta Washington had four children and two grandchildren. The family was trying to raise money for a funeral.
Dallas police are asking for anyone with information about the incident to contact detectives at 214-671-3605 or email Det. Brian Tabor with reference to case number #071868-2021.
NBC 5's Ken Kalthoff and Candace Sweat contributed to this report.