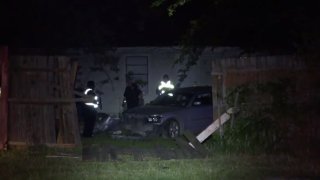 Four people died overnight and a 5-year-old girl was injured in incidents and crashes on Dallas County highways, officials say.
Shortly before 11 p.m. Saturday, deputies arrived at a major accident involving several vehicles on westbound I-30 near South Westmoreland Road. Dallas Fire-Rescue crews at the scene were attempting to get two women out of a Chrysler PT Cruiser.
Monica Gallegos, 28, and Carolina Hernandez, 54, were taken to a local hospital, where they died. A 5-year-old girl who had been in the PT Cruiser was taken to Children's Medical Center in stable condition, according to the Dallas County Sheriff's Department.
Local
The latest news from around North Texas.
The two women had been helping a family member who was having mechanical issues with another vehicle and had been reversing into the right lane when they were hit by a truck.
No charges are expected.
A few minutes later, sheriff's deputies were called to a report of a body found in the roadway at I-20, near Dowdy Ferry Road.
The man had been trying to cross the highway when he was struck by a Freightliner truck tractor. His identity has not been released.
The driver of the 18-wheeler went back to the scene. No charges are expected.
At about 1:20 a.m. Sunday, deputies got a call from the westbound service road of I-20 at Santa Rosa Way. Dallas police responded to the crash because sheriff's deputies were responding to the other fatalities, the sheriff's department said.
Officers arrived to find a Dodge Charger that had flipped off the highway and landed in a backyard. A man and a woman were taken to local hospitals, where the woman was pronounced dead.
Her identity has not been released.