A 14-year-old is in custody in connection with the shooting that left three teenagers dead and another wounded inside a Garland convenience store Sunday, police say.
Garland police chief Jeff Bryan confirmed in a news conference late Monday afternoon the teen was detained on a warrant and was believed to have been the shooter. His name has not yet been released and he has not yet been charged.
The shooting happened in the 700 block of West Walnut Street just after 7:30 Sunday night and was captured on surveillance video, the Garland Police Department said.
Three people ages 14, 16 and 17 were killed, police said. A 15-year-old was recovering at a hospital with gunshot wounds in stable condition. Monday evening police identified the victims as 14-year-old Xavier Gonzalez, 16-year-old Ivan Noyala, & 17-year-old Rafael Garcia.
Video from the store they said shows the shooter leaving a white Dodge 4-door pickup truck, opening the front doors of the convenience store and firing a gun, striking the victims.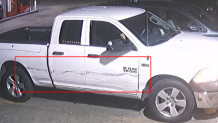 The video shows the person getting back in the white truck on the passenger side and the truck speeding away, police said.
Bryan said at least 20 rounds were fired from a 40 caliber pistol with an extended magazine.
A motive in the shooting is not yet clear, Bryan said, noting the investigation was in its early stages and it also wasn't clear if those involved knew each other.
"Why is one of our big questions right now," Bryan said. "We're trying to comprehend this and we don't yet comprehend this."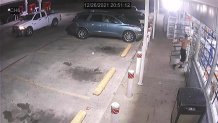 "From what I understand, there are some known acquaintances between all of the victims inside there. That's not 100% certain, but it seems as if based on what we have so far, they were all known someway somehow," said Lt. Pedro Barineau of Garland police.
"This seems to be an isolated incident. As far as previous incidents in this location, nothing to this magnitude has occurred here," said Barineau. "This is a shocker to us, especially so close to downtown Garland. Any time a person's life is taken, it's alarming for us, it's a tragedy. And we're going do everything that we can to find out who did this so we can get them off the streets."
Investigators released a surveillance video image of what they described as a person of interest in the shooting.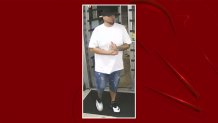 Anyone with information is encouraged to call the Garland Police Department at 972-485-4840. Callers may remain anonymous by calling Garland Crime Stoppers at 972-272-8477 (TIPS).