A 10-year-old girl drowned and her two brothers remain hospitalized after all three were pulled from beneath the surface of a cloudy community swimming pool Wednesday as their mother, who was apparently unable to swim and tending two her two younger children, pleaded for help.
The five siblings were swimming in the shallow end of the pool with their mother, Patricia Allen, at the MacArthur Place at 183 apartment complex on the 2300 block of North MacArthur Boulevard Wednesday afternoon when, according to police, the three drifted into the deep end as their mother's back was turned.
"When she didn't hear the sounds of the children playing anymore, she turned around and didn't see them anymore," Irving Police Department spokesman James McLellan said. "They appeared to have gone below the surface [of the water]."
Three Children Hospitalized After Irving Pool Incident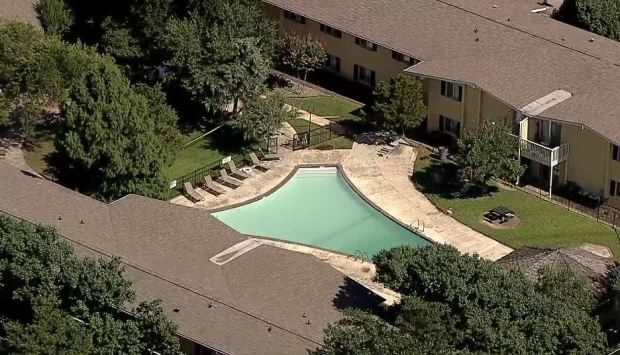 Allen then began screaming for help, as police said they think she was unable to swim. A nearby maintenance man jumped into the pool and pulled two of the unconscious children out.
"That [drowning] can happen so quickly," McLellan said. "And very quickly, it becomes overwhelming for a single person to handle."
The three children were all transported to Children's Medical Center in Dallas where Allen's daughter, identified by the Dallas County medical examiner as 10-year-old August Smith, died. Irving police said the woman's two sons remained in the intensive care unit at the hospital Friday morning in grave condition.
.@IrvingPD: Two boys have been in ICU overnight after drowning incident and that it doesn't look good. @NBCDFWpic.twitter.com/fMYD5LZ8ze

— Ellen Bryan (@EllenBryanNBC5) June 25, 2015
"According to [the] original officer that arrived first, she was not made aware that there was a third child in the pool," said McLellan. "In fact, she expressed a little frustration that she didn't know that."
Police are looking into the pool water's murky appearance for a possible reason no one noticed the third child. The pool was open and the water samples from the pool are being analyzed by code enforcement and the health department.
Irving city leaders released the following statement:
"We have established that this pool was in compliance with all City of Irving regulations when it was last inspected on Nov. 10, 2014. Those standards and regulations mimic those established by the Texas Department of Health, and inspections occur every twelve months.

Officials said though the drowning appears to be accidental, they are trying to determine how the three children ended up under water. Police said Allen does not face any charges, but police are still looking for any criminal signs that point to negligence.
NBC 5's Johnny Archer Ellen Bryan, Jocelyn Lockwood, Holley Ford, Todd L. Davis and Frank Heinz contributed to this report.