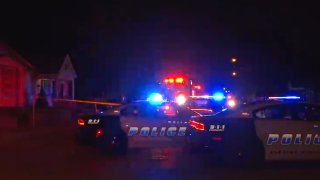 A 22-year-old man was fatally shot in West Dallas Thursday while attempting to stop a fight, Dallas police said.
At around 9:20 p.m., officers responded to a shooting call at 1706 Pueblo Street.
According to police, Josue Monsivais-Rodriguez, 22, was shot multiple times while attempting to "stop a disturbance."
Monsivais-Rodriguez was transported to a local hospital, where he died, police said.
Dallas police are asking for the public's help in the homicide.
Anyone with information can contact Detective Abel Lopez at 214-671-3676 or email abel.lopez@dallascityahll.com and refer to case number 130669-2021.
According to NBC 5's count, the shooting was the 118th homicide in Dallas this year.