Every year, NBC 5 teams up with toy expert Laurie Schacht to find out which toys are likely to fly off the shelves during the holiday season. This time we're looking at toys for every budget.
Starshine the Bright Lights Unicorn (VTech)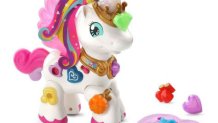 Go on an enchanted adventure with Starshine the Bright Lights Unicorn.
Place the seven charms on any of the three magic hearts to see her horn light up and hear colors, objects, and phrases in English or Spanish.
Use the charms to answer quiz questions or add sound effects to create your own special song.
Squeeze the unicorn's tail to see her beautiful wings flap and hear whimsical phrases and sound effects that encourage imaginative play.
Starshine's majestic hooves feature wheels so you can push her as you head off on your next adventure!
Age: 1.5 - 5 years
MSRP: $24.99
Available: All major retailers
Reindeer (Folkmanis)
Renown for pulling Santa's sleigh, the Folkmanis Reindeer puppet is magical in any season.
Outfitted for rugged tundra in northern regions, this cold climate creature will soon warm your heart.
With a movable mouth, this puppet is a perfect partner to share and tell Christmas stories.
Wonderful as a gift or perfect as a decorative feature during the holidays.
Ages 3+
MSRP $31.99
Available: www.folkmanis.com and through-out Canada at Scholar's Choice stores
Nighthawk (Rollplay)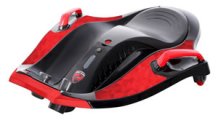 Rollplay Nighthawk Ride-On: Master the thrill of the ride with the 12 Volt Nighthawk Ride-On from Rollplay!
Reaching forward speeds of up to 6 mph, this innovative ride-on is sure to be a hit with little thrill-seekers.
Accelerator and brake pedals allow the rider to control the speed of the Nighthawk with ease.
Kids will love learning how to maneuver around obstacles with the unique steering technique — lean left and right to do quick turns.
Side handlebars allow your child to remain secure while protecting his or her hands.
With an included rear safety flag, you can easily keep an eye on riders as they have a blast racing.
Simply plug in the included charger to the 12V battery to re-power the ride-on.
Recommended for children weighing up to 110 lbs.
Available in white/black or black/red color combinations
Age: 6+
MSRP: $149.99
Available: Amazon, Walmart
Don't Rock the Boat (PlayMonster)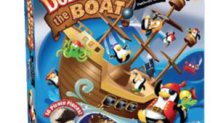 In Don't Rock the Boat, you better Balance Yer Mateys, or Overboard Ye Go! Players take turns setting pirate pieces on the teetering pirate ship, trying not to upset the balance. The player who makes the boat tip and pieces fall off is a landlubber!
The fun is in the characters and 16 playing pieces (pirate penguins, octopus, treasure and more!), and the excitement is in the suspense!
No batteries required.
Age: 5+
MSRP: $24.99
Available: Amazon
Glitzy Spa (We Cool Toys)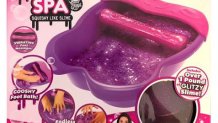 Who doesn't want to stick their hands and feet in Glitzy Slime!
Includes over One Pound of Super Stretchy Purple Glitzy slime.
Has a vibrating motor to roll your feet and hands into.
Squish and Drip, Poke and Pop, kids love the feeling of Compound Kings slime and the Glitzy Spa.
Age: 4+
MSRP: $29.99
Available: Target
Cry Babies (IMC Toys)
Dolls really cry when you remove her pacifier.
She will shout and cry until you replace her paci or rock her to calm her down.
Each doll comes with an attached pacifier and a removable animal print onesie.
Just add water for real tears.
Age: 3+
MSRP: $29.99
Available: Amazon, Target
DIY Do Dats (ALEX)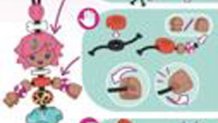 How did YOU Do Dat? ALEX DIY Do Dats will have your friends asking, how did you DO Dat?
Make an adorable and unique dangling character to hang with! Mix and match beaded parts with other Do Dats characters.
She hangs from anywhere with a lobster clasp and has special beads that allow her to hold hands with her friends. She also comes with a mystery bead as a creative surprise.
Includes 25 beads and accessories, 2-piece body frame, lobster clasp and instructions.
Available in six different characters, each with an original personality and look; Sprinkles, Burgadette, Punky, Gloria, Celeste and Unie.
Age: 6+
MSRP: $9.99
Squeezamals (Beverly Hills Teddy Bear Co.)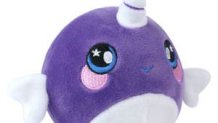 Squeezamals are super soft and ultra squishy, slow-rise, foam plush. Combining on-trend squish toys and soft, high quality, detailed plush, there is nothing else like this on the market. Once a Squeezamals is in your hand you will not want to put it down.
There are over 36 cute characters to collect.. ranging from narwhals and unicorns to penguins and puppies.
Each is sweetly scented.
Squeezamals come in three sizes: Backpack clip at 2.25 inches, Core Squeezamals at 3.5 inches and Large Squeezamals at 8 inches.
Age: 3+
MSRP: Backpack clip $3.99 / Core Squeezamals $6.99 / Large
Squeezamals $14.99
Available: Target, Walmart, specialty retailers
Silly Squeaks (Blip Toys)
Silly Squeaks are musical pets, each with five interactive songs and 16 surprise silly sounds!
Press their backs to play music or press their faces to hear them speak!
With eight to collect in series one, entertainment and silliness is endless. Each has its own musical genre and unique personality.
Play along with a pre-programmed songs (Play Mode A), or play your own song using the full musical scale (each Silly has its own note - Play Mode B)
Addicting, soft, tactile feel.
Age: 3+
MSRP: $9.99
Available: Target, Walmart, Amazon
Nickelodeon Light up Slime Kit (Cra-Z-Art)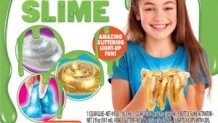 This Slime kit makes slime that uses light to shine and sparkle!
Comes complete with everything you need to make slime and a LED light to make it glow!
Age: 6+
MSRP: $9.99
Available: Walmart, specialty stores
Lick-A-Bubble (Imperial Toys)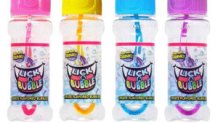 Create flavored bubbles that taste like your favorite drink, with Lick-A-Bubble. Invented by a pediatric allergist, Lick-A-Bubble is safety tested and made in the USA.
Simply add your beverage of choice, blow bubbles, and instantly have delicious, lickable bubbles that are fun for everyone.
Contains two bottles with bubble wands.
Add any drink to create flavored bubbles that taste like your favorite beverage. Simply add, blow & taste!
Age: 5+
MSRP: $7.99 for 2-pack
Available: Amazon, Dylan's Candy Bar, Kohl's, Casey's
General Store, Stater Bros., Supervalu, Academy
Zookiez Slappy (Toy Target)
Zookiez are the collectible plush toy that have flexible hands and feet… easily hang them onto anything and bring them along with you knowing that they will stay in one place.
Zookiez toys are perfect as bracelets, for clipping onto your bed at night, or even to bring in the car with you! They can just hold onto nearly any surface and keep clinging on for a very long time. Until you move them from their position, they are quite happy to hang out and enjoy time with you!
Zookiez not only keep in one place but they are extremely soft.
Age: 3+
MSRP: $9.99
Available: Walmart, specialty
Fish Feud (Buffalo Games)
It's feeding time! Launch squishy fish through the mouth of the Big Fish- to the player on the other side in this two player game. You both race to clear your side of all fish to win.
Don't take turns, both players launch squishy fish at the same time.
Any fish that arrive on your side must be sent back before you can win. So, keep launching as fast as you can.
Age: 4+
MSRP: $14.99
Available: All major retailers (Amazon, Target, Walmart)
Fryin Flyin Donuts (Maya Toys)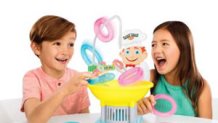 Fryin Flyin Donuts is the new preschool game that is fun for the whole family! Every kid has an affinity for donuts and will love playing the swirling, twirling, frantically fun donut game!
Simply throw your donuts into the fryer and be the first player to fly all your donuts into the baker's box to win the game!
Two-player game
Age: 4+
MSRP: $19.99
Available: Amazon
Bubbleezz (ORB)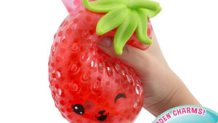 Bubbleezz live in a squeezy world of wonder and fun called Bubbleverse. Each Bubbleezz contain charms and secret messages.
Each Bubbleezz has hundreds of Bubbleezz Beadz inside that move around as you squeeze and transform them.
Each Bubbleezz has a special power charm buried within the Bubbleezz Beadz. These charms represent the unique power that help the Bubbleezz during their adventures in the Bubbleverse.
There are currently 24 Bubbleezz to collect, ranging in size from Super to Jumbo.
Age: 8+
MSRP: $14.99
Available: Walmart
Polly Pocket World (Mattel)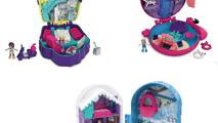 Each compact Pocket World opens to reveal a fun theme with unexpected surprises, micro dolls, and accessories and is small enough to take anywhere for great Polly Pocket adventures.
Choose from Cake-tastrophe with micro Polly and Shani dolls plus scooter and microphone, Flamingo Floatie with micro Polly and Lila dolls plus flamingo and swan floaties, and Snowmazing Surprise with micro Polly and Shani dolls plus snowboard and sled.
Age: 4+
MSRP: $14.99
Available: Fall 2018, all major retailers
Crackers In My Bed (Winning Moves)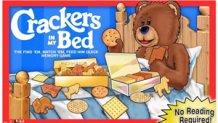 Find 'em, Match em', Feed Him Quick! Kids spin the spinner and search through the bear's bed to find the top-half cracker pieces that match the bottom-half cracker pieces they have. When a correct match is made, kids "feed the bear." First player to feed all their crackers to the bear wins!
Contains: Sturdy Platform Game board with Stand-Up Bear "Headboard", 32 Color-Coded Cardboard Cracker Card Tops, 16 Cardboard Cracker Card Bottoms, Oversized Spinner and Illustrated Instructions.
Age: 4+
MSRP: $12.95
Available: Now
Rainbow Unicorn Foal (Schleich)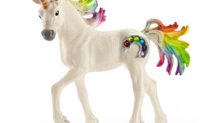 This unicorn figurine is decorated with rhinestones.
Stands at 6.3 inches.
Part of the bayala franchise.
Age: 5-12
MSRP: $8.99
Available: Amazon, Tractor Supply Company


Wild Life Starter Set (Schleich)
Includes four animals from the African savannah: a zebra, an African elephant calf, a chimpanzee, and a roaring lion.
Ages 3-8
Ages 3-8
Available: Amazon, Walmart
Velociraptor Dinosaur Figurine (Schleich)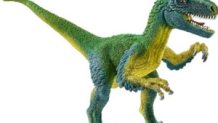 Miniature model of this extinct creature, who once lived in Asia.
Local
The latest news from around North Texas.
Part of the Schleich Dinosaurs line.
Ages: 3+
MSRP: $11.99
Available: Amazon, Walmart
Stroll & Discover Activity Walker (VTech)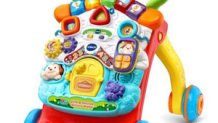 From floor play to first steps, the Stroll & Discover Activity Walker grows with your little one.
The easy-to-remove activity panel is great for floor play and is packed with features, and the legs fold for easy storage.
Five light-up piano keys introduce colors and numbers, while spinning gears and a removable cell phone help develop fine motor skills.
Meet six friendly animals by inserting the three shape sorter pieces, pressing the puppy button, sliding the mouse or batting the bird to hear their unique voices and sounds.
Attach the panel to the adjustable two-speed walker as little ones grow, and watch them go!
Age: 9 months - 3 years
MSRP: $39.99
Available: All major retailers
Design & Drill My First Workbench (Educational Insights)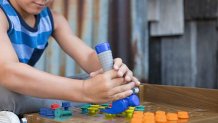 Little builders get busy with a workbench and tool set designed just for them!
Hammer nails and drill bolts directly into the bench to create colorful patterns for hours of unplugged play.
Develops fine motor skills, practices patterning (a key early learning skill) encourages creativity, supports STEM: introduces tools, promotes interest in engineering.
Includes workbench with storage drawer, 120 colorful bolts and nails, and guide with 10 patterns.
Motorized mini-drill and kid friendly hammer.
Requires 3 AAA batteries (not included).
Age: 3-6
MSRP: $49.99
Available: Amazon
Calico Critters Designer Studio (Epoch)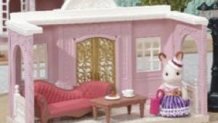 Stella Hopscotch Rabbit makes her home in the stylish Designer Studio featuring a luxurious sofa, tiny table, and tea set.
This play set comes complete with a specially-outfitted Stella character.
Just like all the individual play sets, the Designer Studio can be connected to the other Town structures.
Age: 6+
MSRP: $39.95
Available: Amazon
Beaker Creatures (Learning Resources)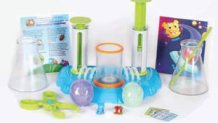 Beaker Creatures is a new line of science-themed collectibles from Learning Resources that combines the thrill of collecting with hands-on science experiments that build skills and spark curiosity.
Includes 35 collectible characters from five different families for children to discover, classify, and explore.
Beaker Creatures is founded in real science, from the fizzing Reactor Pods that reveal the creatures to the classification cards that help children identify their creatures.
Beaker Creatures sets also double as working lab sets, complete with included science experiments that
encourage hands-on learning.
Each Beaker Creature also comes with facts and quizzes about real- world creatures and phenomena that sparks curiosity in the world around us.
Age: 5+
MSRP: $24.99 for the complete Science Lab which includes two dissolvable collectible eggs / $4.99 for individual eggs
Available: Amazon
Magformers PAW Patrol 36Pc Pull-Up Pup Set (Magformers)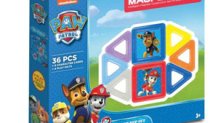 Build your favorite Magformers creations with the added fun of Paw Patrol character cards with this 36-piece set.
Using 30 magnetic pieces and the six insert cards, kids can create the Magformers Ball, a tower, a sandglass, and more!
The Paw Patrol Pull-Up Pup Set comes with four play mats for step-by-step building.
When playtime is over, use the magnetic power to simply stack and store.
Age: 3+
MSRP: $49.99
Available: Amazon, Walmart, specialty
PLAYMOBIL Advent Calendar "Horse Farm" (Playmobil)
The Advent Calendar contains twenty-four surprise items for each day leading up to Christmas. Once all the pieces are revealed, you can enjoy pampering the horses.
Includes backdrop, three figures, one horse, two foals, two ponies, cats, wheelbarrow, fencing, tree, hay, hedgehogs, bucket, and tons of other accessories.
Age: 4-10 Years
MSRP: $24.99
Available: Amazon, Playmobil.us
[[500161421, C]]