A suspected drunken driver barreled through police barricades and drove down a crowded street at the South by Southwest festival early Thursday morning, killing two people and injuring 23 in an act authorities say was intentional.
NBC affiliate KXAN-TV reported that police believe 21-year-old Rashad Charjuan Owens is the driver suspected in the deadly wreck. He is expected to be charged with two counts of capital murder and 23 counts of aggravated assault.
Austin Police Chief Art Acevedo said it was an "intentional act," and that the suspect has been booked and formal charges will be filed this afternoon.
The driver struck multiple pedestrians at about 12:30 a.m. on a block filled with concertgoers, continued down the street and hit and killed a man on a bicycle and a woman on a moped, Acevedo said at a news conference Thursday. The driver eventually crashed and tried to run away, but he was shocked by a stun gun and taken into custody.
"... When somebody acts intentionally, it's very difficult to stop. You have a car here. You have a police officer that was forced to jump out of the way," Acevedo said Thursday.
The two killed in the crash were identified by officials Thursday afternoon as Steven Craenmehr and Jamie West.
Steven Gerardus Hendrikus Craenmehr, 35, of Amsterdam, Holland, was on foot when he was struck and killed by the driver. Craenmehr, who was identified by his passport, arrived in Austin on March 11 for the festival and worked for a company called MassiveMedia. The company has offices in Amsterdam, London and New York; no one at the company has responded to phone messages left by the Associated Press.
Jamie Ranae West, 27, of Austin, was on a motorcycle when she was struck and killed. West was married and worked as a sales/inventory clerk at Eliane et Lena Boutique.
MassiveMedia released the following statement on their website Thursday.
It is with great sadness that we announce the sudden passing of our close friend and colleague Steven Craenmehr, 35, on March 13th, 2014 at SXSW. During the 8 years that Steven worked for MassiveMusic, we got to know him as an unstoppable force, full of life, love and laughter. This is an irreplaceable loss for the MassiveMusic family and we are grateful for the years we spent with him. Our thoughts are with Steven's family and friends.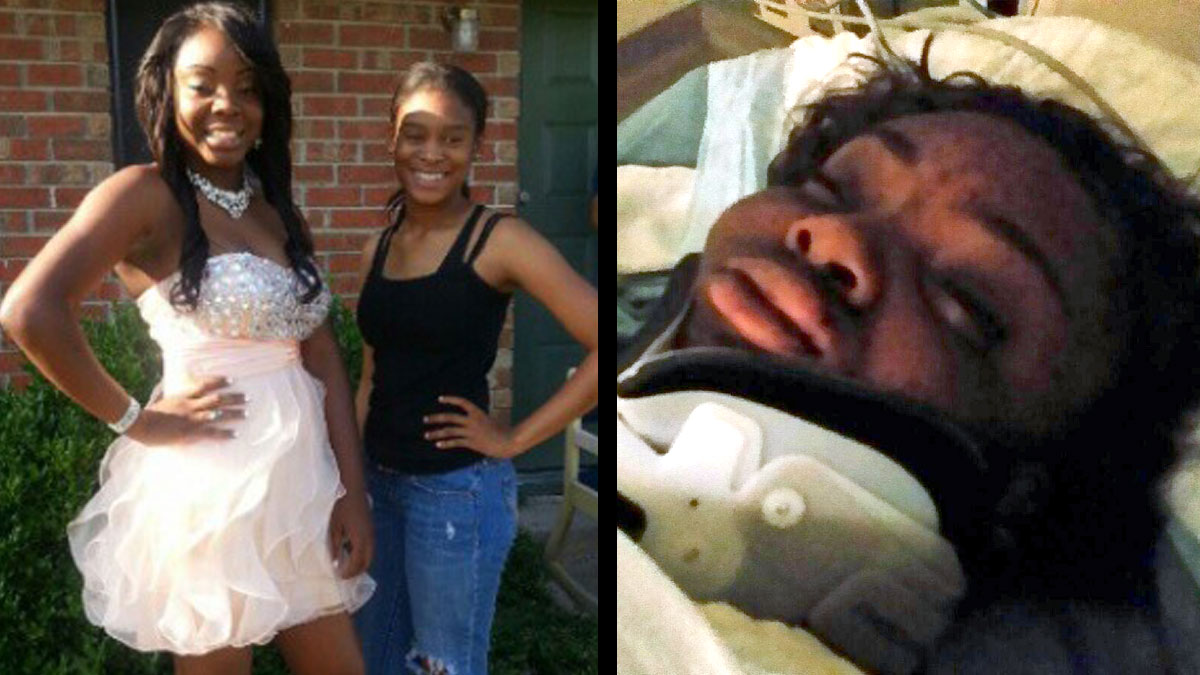 Two teens from Dallas-Fort Worth were among the 23 injured Thursday. Curtisha Davis, 18, (photo below, right), a senior at Fort Worth's Trimble Tech High School, and her boyfriend 19-year-old DeAndre Tatum, were both hospitalized at Brackenridge Medical Center in Austin following the crash. At this time, their conditions are not known.
Witnesses said the scene was chaotic. Multiple acts performed at two side-by-side nightclubs on the street as part of the annual music, film and interactive conference that draws tens of thousands to Austin each year.
Local
The latest news from around North Texas.
Hours later, a pool of blood was still in the crosswalk with a trail leading to the sidewalk, bits of broken taillight mingled in and a medical glove nearby. People were already starting to filter in for the day's events and bands had started to play by early Thursday afternoon, and city buses took their normal route past the blood.
The festival issued a statement that expressed condolences for the victims and said some events would be relocated because of the incident.
Two people were in critical condition Thursday morning with life-threatening head injuries and three patients remain in serious condition, said Dr. Christopher Ziebell, the emergency department director at the University Medical Center-Brackenridge said. He also said the driver was treated for minor injuries.
"The most critical patients I have a great deal of concern for," Ziebell said. "We are going to do our best for them, but these are some of the worst injuries that we see and not everybody with these kinds of injuries is going to survive."
Police said the incident started when an officer on a drunken-driving patrol tried to stop the silver Toyota sedan at a gas station a few blocks away. The car took off, weaving between parked cars then driving at high speed the wrong way down a one-way street.
The driver rammed through police barriers -- three wooden pieces held up by metal poles -- set up on Red River Street on the northeast edge of the entertainment district. It'd had been packed with revelers just minutes earlier, but officials had cleared the area to create a fire lane.
Austin resident Kirk Visser, 47, lives across the street from The Mohawk nightclub, where the bands X and TEEN had just wrapped up when the crash happened and rapper Tyler the Creator was scheduled to perform at 1 a.m.
Visser was watching TV when he heard the crash, and said he thought the nightclub's outdoor balcony had collapsed, so he stepped outside on his second-floor balcony.
"As soon as I stepped out, I knew I had heard metal on a body," he said. "There were people everywhere running and screaming."
Scott Jakota, a musician from Indiana in town to play SXSW, told the Austin American-Statesman he was one of the first people hit outside The Mohawk. He said the driver "gunned" the car.
"I was thrown up in the sky," Jakota said.
Next door to The Mohawk, singer-songwriter Kurt Vile was playing the outdoor stage at Cheer Up Charlie's. Ted Evans, a 29-year-old from New York City, said he heard what he thought was a gunshot. He made it out to the street a half-hour later.
"There was blood on the ground. I saw some people who had blood on their hands, and police were just trying to keep everyone calm," said Evans, who's working at the festival. He said the shows at both clubs were canceled within minutes of the incident.
The driver continued down Red River and hit a bicyclist, two people on a moped and a taxi at 11th Street before striking a van and trying to run away, Acevedo said. The second person on the moped was in good condition, he said.
Acevedo said authorities are still investigating, and asked witnesses and those who may have taken video to contact police rather than post it on the Internet.
The festival will continue, SXSW managing director Roland Swenson said Thursday morning.
"It would cause more problems for people to show up and be turned away than to carry on," Swenson said.
One bouquet of flowers sat by a telephone pole in front of The Mohawk. Daytime concerts there and next door had been canceled, though festivalgoers were still showing up expecting to see bands.
Copyright AP - Associated Press