Garland police on Wednesday are charging a 14-year-old with capital murder in a triple killing at a gas station convenience store and are warning that the boy is at large, armed and dangerous.
Abel Elias Acosta, 14, is suspected to have been the shooter in the Dec. 26 incident, according to a news release.
Law enforcement officials rarely release the identity of juvenile suspects.
"However because of the extenuating circumstances, the nature of the incident and the risk to the public the court has authorized the release of his information so we can locate his whereabouts," Garland Police Public Information Officer Lt. Pedro Barineau said.
Acosta is described by police as a light-skinned Hispanic male with dark hair, brown eyes, approximately 5 feet, 5 inches tall and weighs around 125 pounds.
Acosta's father, Richard Acosta, surrendered to police this week and faces a charge of capital murder, accused of driving his son to and from the scene, police said.
A 14-year-old boy taken into custody earlier this week was determined not to be the shooter but "remains a person of interest in the investigation," police said.
Abel Acosta is "actively evading capture," and a $10,000 reward is being offered for any information that leads to his arrest, police said.
"Somebody knows where he's at," Lt. Barineau said. "He's not doing this on his own, he's only 14."
The shooting was captured on surveillance video. It shows a shirtless boy or man with a handgun approaching the gas station store while crouched. He swings open the door and starts shooting from the doorway.
Police believe retaliation was a possible motive for the shooting.
"At least one of the victims inside the convenience store that was shot was involved in a previous disturbance with Able Acosta," Barineau said.
Police previously said the shooter fired more than 20 rounds from a .40-caliber pistol before fleeing in the Dodge Ram pickup driven by Richard Acosta, who they said also brought the gunman to the gas station,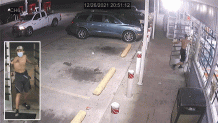 Those killed were 14-year-old Xavier Gonazalez, 16-year-old Ivan Noyala, and 17-year-old Rafael Garcia. A 15-year-old who was a cook at the store was taken to the hospital following the shooting and was expected to survive.
Investigators believe the shooting was a retaliatory attack on at least one of the victims, Barineau said.
At a service Wednesday evening, Rafael Gonzalez said his nephew Xavier loved ranching and hunting and reiterated the 14-year old was simply buying food for his family at a taqueria inside the store and had nothing to do with what led to the shooting.
Gonzalez added the family hopes detectives catch Acosta as soon as possible.
"It would provide closure for the family," Gonzalez said. "Knowing that his life wasn't just something you can just throw away."
An attorney for the elder Acosta, who is being held on a $1 million bond, could not be immediately identified.
Anyone who has knowledge of the whereabouts of Abel Acosta is encouraged to call 911 immediately. Tips may be made anonymously to Garland Crime Stoppers at 972-272-8477 or www.garlandcrimestoppers.org.
Copyright NBC 5 News and The Associated Press