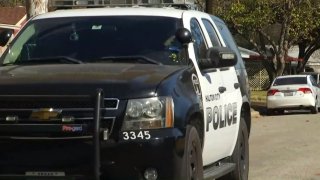 Police have arrested one person in connection with a shooting at a Haltom City residence on Wednesday that injured a child.
On Thursday, Haltom City Police said 46-year-old Jesus Vela-Alferez was arrested in connection with the shooting outside a home on the 3500 block of Eastridge Drive.
According to the Haltom City Police Department, officers were called to the home at about 3 p.m.
When officers arrived, they found several vehicles and a house had been struck by bullets in an apparent drive-by shooting.
A juvenile inside the residence was injured by the gunfire, police said. The child was transported to a local hospital with injuries that were not life-threatening.
According to Haltom City Police, officers are not aware of a motive for the shooting at this time.
Police said anyone with information related to this incident should contact the Haltom City Police Department at 817-222-7000.