A man has been arrested after police say he shot a woman in the face Saturday in a road rage incident on U.S. Highway 75.
The shooting happened around 4:30 p.m. Saturday near Forest Lane. Police arrested Gabriel Alfaro, 33, who said he called 911 to report returning fire.
Alfaro told police he shot into the passenger window of the 2018 Chevrolet Malibu.
A passenger in the vehicle, a 22-year-old woman, was struck in the mouth by the bullet and sustained significant trauma to the right side of her face, police said.
She was admitted to the ICU at Texas Health Presbyterian Hospital.
Dallas Fire-Rescue treated the driver at the scene for several lacerations to his lower abdomen from what appeared to be glass fragments.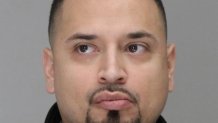 A 3-year-old boy in the back seat of the Malibu was not physically injured.
Local
The latest news from around North Texas.
The driver, a 21-year-old man who is licensed to carry a handgun, told officers he fired through his windshield at Alfaro's vehicle after his girlfriend was shot in the face, police said.
He then drove her to a medical center in the 8000 block of Walnut Hill Lane.
Alfaro was booked into the Dallas County jail Saturday night on three charges of aggravated assault involving the reckless discharge of a firearm at a vehicle.
His bail has been set at $450,000.