A 19-year-old SMU student was fatally shot early Saturday in downtown Dallas in the city's 198th homicide of the year.
Officers responding to the shooting call around 3 a.m. found Robert Jaden Urrea with a gunshot wound in the middle of the intersection of South Harwood and Jackson streets.
Police said surveillance video from nearby showed Urrea walking up to a white, four-door vehicle with a sunroof and custom wheels. After the vehicle leaves, Urrea is seen stumbling into the intersection and falling to the ground, police said.
He was taken to a local hospital, where he died.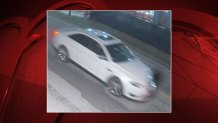 Police Maj. Danny Williams said they believe Urrea had been at a party or a bar celebrating Halloween.
Williams did not provide a description of the people in the vehicle, but said they tracked the car throughout downtown using surveillance cameras, and urged those involved to turn themselves in.
Local
The latest news from around North Texas.
"We're confident that we will bring this perpetrator to justice," Williams said. "We have so much information on this one, we're asking the perpetrators to turn themselves in."
Urrea was a second-year student who had recently transferred to SMU, the school wrote in a letter to students Sunday. He was from El Paso and studying political science on the pre-law track.
"I know I speak for all of us here at SMU in offering our sympathies to Jaden's family, loved ones and friends. Memorial service arrangements are pending as of the date of this message," SMU's Dean of Students Melinda J. Sutton said in the letter.
The letter reminded students of support services offered by the university.
The resources included:
Office of the Dean of Students, 214-768-4564 or send e-mail to deanofstudents@smu.edu.
Counseling Services, 214-768-2277
Office of the Chaplain, 214-768-4502 or send e-mail to chaplain@smu.edu.
Residence Life and Student Housing, 214-768-2407 or send e-mail to housing@smu.edu.
For emergency assistance, please call the SMU Police at 214-768-3333.
The shooting is the second homicide reported in downtown in the past week, and one of 198 in Dallas this year.
Early Sunday, 35-year-old Loc Phuoc Pham was found fatally shot in a parking lot in the 300 block of North Griffin Street, the same morning three people were shot and killed at a club in northwest Dallas.
Following a deadly 2019 in which more than 200 homicides were reported — up 27.3% over the year before — police Chief U Renee Hall released a plan aimed at reducing violent crime in the city, which set a goal of a 5% overall reduction in violent crime.
But with two months left in the year, the city is on track to surpass last year's homicide rate.
As of Thursday, homicide offenses, which include murder and non-negligent manslaughter, are up 18.18% over 2019, and violent crime is up .77% citywide, according to department statistics.
Williams said because of Halloween and because of the upcoming election, the police department is placing extra patrols in downtown Dallas until further notice.
He said the department's crime plan "continues to be tweaked."
He said the department also started three new units: CAPERS Operation Support Team, which picks up people as soon as warrants are issued; a non-fatal shoot team, a 12-officer team that responds to nonfatal shootings; and a business robbery team, which responds to those calls.
"What we're doing is putting more resources on the problem to immediately gain evidence and intelligence so we can put people in jail when they commit heinous crimes such as the one this morning," Williams said.
Anyone with information about Saturday's shooting may call Detective Patty Belew at 214-422-9275 or email patty.belew@dallascityhall.com
Crime Stoppers is offering up to $5,000 for information leading to an arrest and indictment. Tips may be made by calling 214-373-8477.