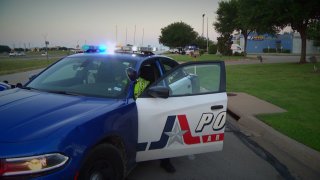 A 17-year-old teenager was arrested and charged with murder after a 21-year-old man was fatally shot in an Arlington park, police said Monday.
The shooting happened at a park near the 2200 block of Greenway Street at about 12:15 p.m. Sunday, Arlington police said.
Police said detectives believe Felix Rios, 21, agreed to meet the 17-year-old at the park to fight. But when Rios arrived, the teen began to shoot, according to police.
Rios was dropped off in a private vehicle at an area hospital with a gunshot wound, police said. He later died from his injuries.
Investigators believe a fight between the two initially happened in a Grand Prairie home Sunday morning.
The 17-year-old remains in custody and was charged on one count of murder, police said.
"We are trying to locate the gun and determine how a teen was in possession of a gun in the first place," Arlington police chief Al Jones said on Twitter Monday.