Word spread quickly Saturday of a downed plane near Spinks Airport and the chance that the pilot could be Earl Kirkpatrick.
Before his son, Forrest, had even found the plane, he said he'd received messages from people checking on his father.
"People were reaching out that quickly because he was that loved," Forrest Kirkpatrick said.
Earl Kirkpatrick, 85, was the only person on board and died in the crash just south of the airport's runway, near the 600 block of E. Renfro Street, fire officials said.
Information from the Federal Aviation Administration about the plane showed it was a Sonex, a small kit aircraft.
"He was probably the smartest person I've ever met in my life," Forrest Kirkpatrick said. "He was an engineer and he was a great dad. He was always there for me and my brother."
Originally from New York, Earl Kirkpatrick met his wife of close to 50 years, Andrea, in Florida, where he attended the University of Miami.
Local
The latest news from around North Texas.
When the young couple was dating, he flew them to the Dominican Republic for vacation, his son said.
They eventually settled in North Texas, and in the '90s Earl Kirkpatrick sold his airplane to found ELK Engineering Associates, which specializes in corrosion engineering and electrical grounding services.
The job took him all over the world, and he never slowed down.
Earl Kirkpatrick still worked four days a week, his son said, and was the principal engineer and chairman of the board, according to the company's website.
He was also a proud Marine and had been a chaplain in the Marine Corps League. In 2017, he was honored with the Joe Vickery Jr. Chaplains Award, and was named regional marine of the year in 2019, Forrest Kirkpatrick said.
He said his father knew everyone, and if he met a stranger, they weren't one for long.
Once, while at Chick-fil-A, he struck up a conversation with someone who mentioned she'd never flown before
The next day, he took her up for her first flight.
"The next day he took her flying, somebody he'd never met before," Forrest said. "That was just my dad."
Forrest, 45, said he remembered a trip across the U.S., from North Texas, to Washington, D.C., to Chicago and back again.
"That's just how he liked to spend his vacations, in an airplane," he said.
As a child, Forrest would sit on top of a stack of pillows so he could see out of the cockpit.
"I was his autopilot," he said. "I couldn't see out the window, so I'd stare at the instruments and make sure we were going where we were supposed to be going while he'd get his charts out and navigate."
After years without a plane, Earl Kirkpatrick got another about seven years ago, right before his wife's death: the kit for the Sonex is he was flying Saturday.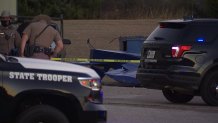 He rented a hangar at Spinks Airport in Burleson, just east of Interstate 35W, and spent the next seven years assembling the kit. Forrest got to pick the color: blue.
The plane took longer to build than he thought, so Earl Kirkpatrick bought a Mooney aircraft so he could continue to fly while he worked on the Sonex, Forrest Kirkpatrick said.
Before he took off Saturday, Earl handed his son a radio so Forrest could hear him talking to the tower.
"It was the very first flight of his plane and he was really excited," Forrest said.
His father flew north and got almost out of site before turning around. Forrest said he heard him say on the radio that he was losing altitude and would head back to the airport.
A voice from the tower said that they could see smoke coming from the engine.
"I heard say, a little bit after that, I don't think I'm going to make it back to the airport," Forrest said. "That's when I took off trying to find him."
After some searching, Forrest came across the crash scene on Renfro. First responders were already there. A stranger who had arrived right after the plane went down had used a stick to remove some powerlines from the plane so Earl would not be electrocuted, he said.
He was pronounced dead at the scene.
Earl Kirkpatrick is survived by his sons Forrest (Melissa) and Tom Kirkpatrick (Therese), his brother, Len Kirkpatrick (Barbie), and two grandchildren.