Authorities arrested two people in connection to a deadly shooting in Denton in late October, police say.
Denton police said they arrested Jordan Bernal, 18, and Juan Perales, 21, and charged them both with aggravated robbery and murder. Bernal faces an additional charge of tampering or fabricating physical evidence.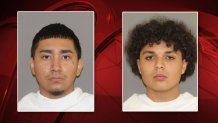 A shooting on Oct. 24 left one man dead and another injured, police said.
It happened in the 100 block of Duchess Drive in Denton after multiple people called 911 to report hearing gunshots.
Officers found one victim nearby who had been shot in the lower leg. The victim was taken to a local hospital.
Police were also notified of a possible second victim at a hospital who had a gunshot wound to the abdomen. The victim later died, police said.