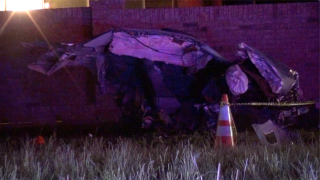 A 16-year-old person is dead and an 18-year-old is injured after a crash in Burleson Monday night.
Burleson police and fire units responded to a crash in the 700 block of Northwest John Jones Drive at approximately 9:30 p.m.
When officers arrived at the scene, they found that a vehicle was split in half after it crashed into a tree.
The 16-year-old passenger was pronounced dead at the scene, while the 18-year-old driver occupant was transported to a local hospital and later released.
Police said they believe that the vehicle was traveling southbound on John Jones when another vehicle turned onto Tarpon Drive, clipping the vehicle and causing the driver to veer off the road and crash into the tree.
Wednesday, Burleson police said they arrested Eric Padilla and charged with an accident involving death. Officer stopped Padilla shortly after the crash and said he showed no signs of intoxication.
Padilla is being held at the Johnson County Jail on $250,000 bail, police said.