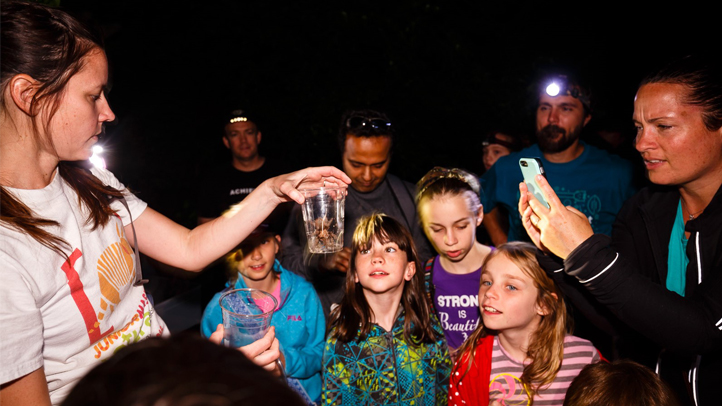 No PhD? No problem! The growing world of Citizen Science empowers people from all walks of life to participate in scientific research. It is best defined as "scientific work undertaken by members of the general public, often in collaboration with or under the direction of professional scientists and scientific institutions." Whether you are interested in mapping the stars, counting birds, or listening for frogs, there is most certainly a project for you.

Celebrating its 119th year, the Christmas Bird Count is one of the longest running citizen science projects. Anyone interested in participating is welcome to sign up and join in through the Audubon website. Each year tens of thousands of volunteers brave the elements to participate in bird counts from December 14 through January 5. Data collected is used by Audubon and other institutions to help understand the health of bird populations. If you're interested in submitting bird observations year-round, check out eBird, an online database providing real-time data about bird distribution and abundance. Visit the Perot Museum's Rose Hall of Birds to learn more about local species and birding hotspots in the Metroplex.

If you are interested in participating in local projects that focus on biodiversity, check out iNaturalist, a joint initiative by the California Academy of Sciences and the National Geographic Society. This growing social network encourages nature lovers to submit photographs of flora and fauna using a smartphone app. Not only does iNaturalist help you identify the plants and animals around you, it also connects you with a community of over 750,000 scientists and naturalists. There are hundreds of local projects you can submit observations to using this simple app. The Texas Parks and Wildlife Department curates their Texas Nature Trackers programs on iNaturalist. You can learn more about these projects on the TPWD website. Here at the Perot, we introduce the iNaturalist app to our Jr. Master Naturalist students. Learn more about the program here. Registration for the 2019-2020 season goes live sometime in July.

A great way to get started with citizen science would be to participate in the annual City Nature Challenge through iNaturalist. Cities worldwide compete against each other to see who can make the most observations of nature, find the most species, and engage the most people. Last year, 832 participants in DFW made 34,928 observations of 2,477 species. This shows that we have an incredible amount of biodiversity right here in the Metroplex! This year's City Nature Challenge will be from April 26th-29th. Click here for more information on how you can participate!