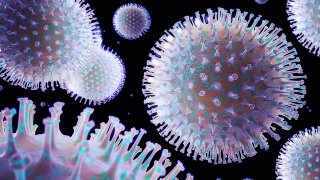 The Dallas County Health and Human Services Department reports flu cases in the county are down for a second straight week.
Between Feb. 1 and Feb. 8, 1,046 positive flu cases were recorded by the county, more than 350 fewer than the week before (1,402) -- a drop of about 29%. During the most recent reporting week, from Feb. 8 to Feb. 15, 657 positive cases were recorded -- that's a drop of more than 46% over the week before and a drop of 72% since Feb. 1.
Despite the drop, the county health department says influenza activity remains high with 20.2% of tests returning positive. The county said there were also 120 new influenza-associated hospitalizations reported during Week 7, between Feb. 8 and Feb. 15.
Flu shots are available for children at all county clinics; adults can get vaccines at the main clinic. More information on vaccines can be found here.
DCHHS said RSV activity is low with 3.4% of tests reporting as positive.
Tips for Avoiding the Flu
Get a flu vaccine every season, especially people at high risk
Wash your hands often with soap and water
Cover your mouth and nose with a tissue when coughing or sneezing
Avoid close contact with people who are sick
Stay home when you are sick
Avoid touching your eyes, nose or mouth
If you're experiencing flu symptoms, visit your doctor and begin taking antiviral medications to help you recover more quickly