It's not everyday a mother gets to hear her son's heart beat for the first time, twice. Renee Varela is the rare exception.
Last August, Varela's 18-year-old son, Anthony, was killed by a drunk driver. His heart was transplanted into the chest of Eric Ford, a husband and father of two from Beaumont.
After the transplant, Varela held a stethoscope to Ford's chest and, for the first time, heard her son's heart beating outside of his body. Varela and Ford met for the first time in Dallas, after Ford's successful transplant surgery.
"I thought I was going to cry much more," said Varela. "But, I'm so glad."
Transplant Recipient and Donor Family United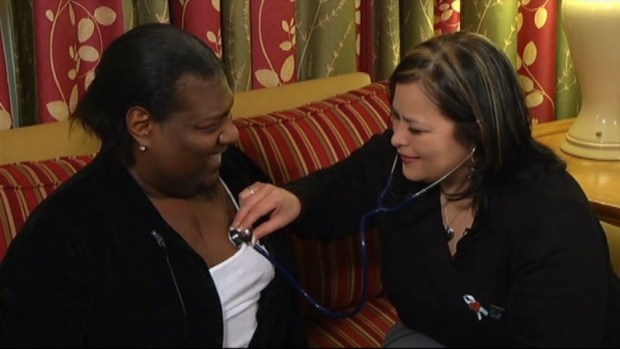 After her son's death, Varela had only seconds to make up her mind whether or not she wanted her son's organs to be donated.
"I was like, 'He's young and he can help somebody and he was just that type of person,'" said Varela.
Ford was on his death bed at the time. His kidneys were failing and so was his heart, which he had transplanted in 2006. Ford described himself as being in "great pain" on the night he received a call about a donor match.
"I was laying in the hospital thinking about that and I just started crying for him," said Ford, "Thankful at the same time, 'cause he saved my life."
Tragedy may have brought the two families together, but together is where they will stay. An extended family now bound by an act of grace.
"She may have lost a son," said Ford, "But she's gained a whole 'nother family."
With thousands of people awaiting transplant surgeries, both families pray their story will inspire all people to donate their organs, but especially minorities who have a lower percentage rate of participation in organ donor programs.
According to the U.S. Department of Health and Human Services' Office of Minority Health, "Successful transplantation is often enhanced by matching of organs between members of the same racial and ethnic group. Generally, people are genetically more similar to people of their own ethnicity or race than to people of other races. Therefore, matches are more likely and more timely when donors and potential recipients are members of the same ethnic background."
The OMH also said that "Minority patients may have to wait longer for matched kidneys and therefore may be sicker at the time of transplant or die waiting. With more donated organs from minorities, finding a match will be quicker and the waiting time will be reduced."