The conjoined twins who were separated at Medical City Children's Hospital in Dallas are still tackling some major hurdles that will require them to spend the holidays in the hospital.
"When we get these ups, we try not to go too far up and when we get these downs, we try not to go too far down," said their father David Ezell.
The news that the boys will have to continue their hospital stays comes just days after Owen and Emmett Ezell, now almost 4-months-old, donned their first Halloween costumes. They were little Frankensteins.
"They're starting to smile, and they'll laugh," said Ezell.
The photo not only captures the 14-pound baby boys' first Halloween, but also the first time they've sat side by side in bouncy seats instead of hospital beds.
It's a far cry from July, when the twins came into the world joined from the chest to the belly button.
"It's almost every day but certainly every week, they'll be issues we encounter and we find ways to deal with them," said Ezell.
The family of six, separated by the circumstances, is planning to celebrate the simple things when they can.
"We have to find ways to split our time and spend as much time as we can with the twins and as much time as we have with the other guys. So that really affects us at the holidays, when you want to be together as a family," said Ezell. "They may not be together, but they'll know they're each being celebrated on all of these holidays. And there will come a time that they're all together."
The boys have to pass three major medical hurdles to go home -- eating and breathing on their own, and fully healing from their surgical wounds. None of those milestones have happened yet and doctors have set no timeline for the recovery.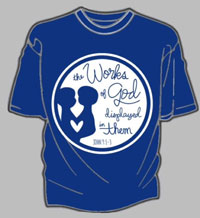 The family is chronicling the twins' progress, as well as setbacks, on The Ezell Twins blog.
On the blog the Ezell's have also started selling T-shirts that read, "The Works of God Displayed in Them, John 9:1-3."
The funds donated go into a trust fund set up for Emmett and Owen and their direct care.
More: The Ezell Twins blog | The Ezell Twins T-Shirts
Published at 10:04 PM CST on Nov 3, 2013 | Updated at 9:52 AM CST on Nov 4, 2013