White Blasts Perry Over 'Ouija Board' Estimates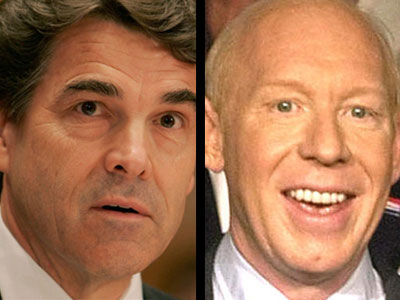 A massive budget hole Texas faces emerged again in the race for governor Wednesday after Gov. Rick Perry equated early shortfall estimates to "Ouija board" projections.
Democratic challenger Bill White seized on the remark, saying Perry lacked business sense for comparing an estimated $18 billion shortfall from state budget officials to crystal ball readings. Perry said he was referring to methods used in some projections that he says are well higher than others.
"I think it's a little bit premature to be getting your crystal ball out or your Ouija board or whatever these people are using," Perry had said Tuesday at a campaign stop in Midland.
Appearing in Irving on Wednesday, Perry tried to clarify the earlier comment, saying he mentioned Ouija boards and crystal balls when referring to methods used in some budget shortfall projections because the figures are much higher than the state Senate finance chairman's recent estimate of $10 billion to $11 billion.
"So there have been others who have estimated, guestimated -- again, I don't know the logic or the economic rules that they're using to come up with their numbers," Perry said. "You've had some that said it's 18 billion. Another group said it's 21 1/2. You know -- I thought I was at an auction for a while. `Who's going to make it 25?"'
White, who is running to deny Perry an unprecedented third term as Texas governor, called the comments dismissive.
"Maybe the governor ought to go back and take some courses in business school himself," White said.
Perry said tough decisions must be made when the legislative session starts, but that lawmakers will balance the budget by funding the priorities -- including education and public safety -- and reducing spending in other areas.
White said he was not saying estimates of an $18 billion shortfall are precise, and like Perry, named education safety and public safety as the priorities that should first receive funding.
The state budget shortfall will be the driving force behind almost every decision the Legislature makes.
The shortfall is the gap in available revenue and the level of state spending required to maintain state services at current levels. Because of the economic recession, state tax receipts have been down, but the state is also on the hook to fill a hole of about $11 billion left by federal stimulus money and other state savings that were used last year but are no longer available.
Added cost pressures from increased enrollment in public schools and health care programs, decreased property values and spikes in health care costs all contribute to projections of the budget hole that could be higher than $18 billion.
Associated Press writer Angela K. Brown contributed to this report from Irving.