Perry Leads White in Money Race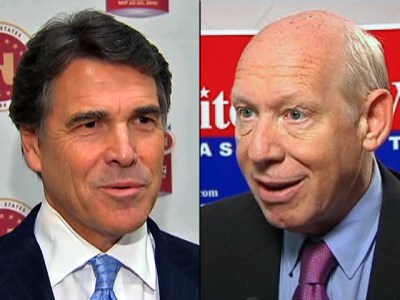 Campaigns aren't cheap. Just ask Gov. Rick Perry and Bill White.
Both candidates released their fundraising figures for the most recent quarter, and Perry has a noteworthy lead on White. Between July 1 and Sept. 23, Perry raised $8.26 million, and White raised $4.68 million.
In a release, Perry's campaign said his money came from 18,571 donors. In White's own announcement, a campaign spokesperson said donations came from more than 25,000 donors.
Perry also reported Monday that he has $10 million in cash on hand, far more than the $2.75 million White announced.
"Texans from across the state continue to generously support Gov. Perry's re-election campaign and his principled leadership which has made Texas the envy of the nation," Perry spokesman Mark Miner said in a written statement announcing the figures.
White's campaign explained the large difference in available cash between the two candidates by saying that White spent more than $11 million in the period, some of it on television ads that will air in the weeks to come. White's campaign finance chair, Scott Atlas, said Texans "are voting with their pocketbooks for new leadership."
White, who emphasizes his leadership experience in Houston and his business background, is considered the Texas Democrats' best hope in years to recapture the governorship. Right now all statewide elected offices are held by Republicans, a trend that began in the 1990s as George W. Bush swept into power.
Perry has held elected office for 25 years and is seeking an unprecedented third full four-year term as governor.
Among his biggest donors were businessman Harold Simmons, of Dallas, who gave $250,000; Houston Astros owner Drayton McLane, who contributed $50,000; and Houston-based homebuilder Bob Perry and his wife, who gave at least $100,000.
White's detailed list of top donors shows that Robert L. Patton Jr., owner of Fort Worth Magazine, gave $125,000 to his campaign. Geologist Jeffrey Todd Mitchell, of Spring, gave $80,000; and attorneys John Eddie Williams Jr., of Houston, and Nelson Roach, of Daingerfield, each contributed $50,000.
The Democratic Governors Association, a national group, gave White $500,000.
The money race is important because it shows how the gubernatorial candidates are poised to campaign in the final weeks.
There are no limits on campaign contributions in the state's governor's race. The candidates spend millions of dollars buying television advertising, crucial to reaching voters in this state of more than 24 million people. Both already have been airing positive and negative TV ads.
When the last fundraising reports were filed in July, White held an advantage with more than $9 million in campaign cash on hand, surpassing Perry's $5.9 million at the time. White also raised slightly more than Perry in the reporting period running from late February through June, but each candidate collected more than $7 million in that period.
The gubernatorial campaigns had to file new reports on their fundraising to the Texas Ethics Commission by Monday night.