Perry Leads Newspaper Poll by Double Digits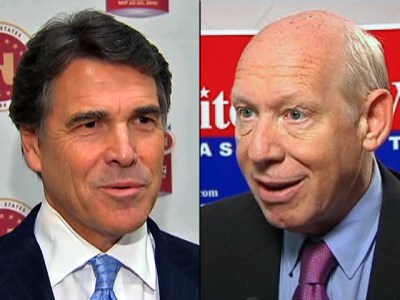 Texas Gov. Rick Perry appears to be defying the anti-incumbent mood gripping much of the country. The Republican holds a double-digit lead over Democrat Bill White in a new poll.
Perry, who's seeking a third full term, leads White 49 percent to 37 percent.
Green Party candidate Deb Shafto has 3 percent and Libertarian Kathie Glass has 2 percent. The rest were undecided or declined to answer.
The poll was done for The Dallas Morning News, the Houston Chronicle, the San Antonio Express-News, the Austin American-Statesman and the Fort Worth Star-Telegram. It has a margin of error of plus or minus 3.8 percentage points. The poll is appearing in Friday's newspapers.
Pollsters conducted the survey Oct. 22-27 and questioned 673 likely voters.