Governor Candidates Criss Cross State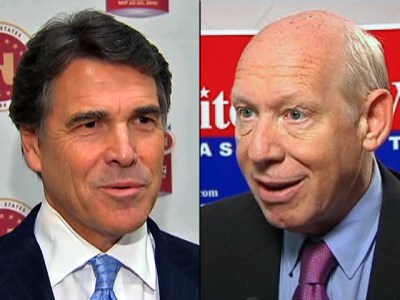 Swooping into traditionally Democratic territory in South Texas, Republican Gov. Rick Perry praised tea party activists and urged straight-ticket GOP voting as polls opened statewide.
Democratic rival Bill White also took advantage of the first day of early voting in Texas by holding get-out-the-vote rallies Monday in Houston, San Antonio and Dallas.
Both candidates voted for themselves, then asked voters to do the same.
Before a raucous crowd at a barbecue restaurant in Corpus Christi, Perry noted his endorsement by former Democratic gubernatorial candidate Farouk Shami and told supporters to vote only for Republicans.
White said he didn't cast a straight Democratic ticket. The former Houston mayor said Texas needs to get away from "strident partisanship."