Democrat White Takes Fight to GOP Territory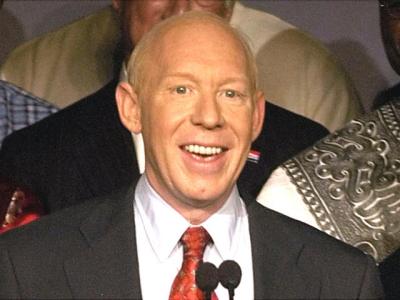 After pushing traditional Democratic constituencies to turn out for him in the first week of early voting, Bill White on Thursday took his campaign for governor into Republican West Texas -- where Bush remains a popular name and President Barack Obama is all but radioactive.
Bothering to campaign in the West Texas oil patch at all in the final days of the race shows White is at least living up to his promise to take the fight onto Republican Gov. Rick Perry's home turf. But it is a very steep climb.
Even his most ardent supporters admit White is struggling to persuade voters to look past his party label and give him a chance. The area's Democratic Party is more like a support group than a political organization.
"This is very, very, very, very conservative area, a very red part of the state," said Joan Baskin, 79, a prominent Midland community leader. "Most people tend to go in and just pull the Republican lever."
Baskin showed up at the Midland County Annex building Thursday to cast an early vote for White but decided to come back later because the lines were too long. One voter after another came out of the booth after doing exactly what Baskin figured they were doing.
"Straight Republican," said retired oil drilling superintendent Art Bachman, describing how he had just voted. When asked why, he said: "Because I don't like Obama. He's a socialist."
White insists he's not wasting his time in Midland, where a sign on the highway still calls the town the home of George W. and Laura Bush -- even though they haven't lived there in years.
"It's important to show respect to all parts of the state," White told reporters outside The Harvest Caffe, where he held a rally that drew more than 100 supporters. "There's a lot of people including a lot of hard core Republicans who are supporting my candidacy here in the Permian Basin. I've met them."
White, the former mayor of Houston, also stressed his credentials as a businessman and said there was no reason why disaffected Perry voters should have to "hold their nose" and vote for the state's longest-serving governor.
But that's what many of them are doing.
Oil company clerk Vicki Edwards, 53, said she was tired of voting for Perry, first elected in 2000 and poised to become the longest serving governor in the nation if he wins re-election. But Edwards said she wouldn't be caught dead supporting a Democrat.
"I wish there was somebody good running against Perry but there's not," she said. "I think it's time for a new Republican. But I'm a Republican and I'm going to stay one."
Perry, meanwhile, campaigned Thursday at McKenzie's Barbeque in Conroe, drawing some 300 loyal supporters into the jam-packed restaurant. Across the street, barely a handful of White supporters sweated in the hot autumn day to raise their signs.
Perry gave a half-smirk when he heard of White campaigning in West Texas.
"Texans are proud to be conservatives. They're proud to be small government, fiscal conservatives and a liberal personal injury trial lawyer probably's not going to be their choice for governor," Perry said.
Perry also brushed aside White's accusations that he is living in the lap of luxury during tough economic times -- reacting to White's vow that if elected, he'll move into a double-wide trailer rather than the $10,000 a month mansion Perry lives in while the traditional state residence is under renovation.
"He's not gonna have that choice to make. He's probably just going to stick in that $2.1 million mansion he's living in Houston right now is the way I figure it," Perry said.
White kicked off the early voting period this week by focusing on core Democratic supporters, with several targeted appeals to black and Hispanic voters along the Gulf Coast, in San Antonio, and East Texas. White began his day Thursday with Mariachi music and a Spanish-language rendition of Frank Sinatra's "My Way" at a rally in El Paso before heading off to conservative Midland. He was set to finish the day with a swing through nearby Lubbock.
"Your belly's gonna hurt if you're looking for White to win in this area," said Chris Dominguez, 51, who runs an oil service business in Midland and cast his early vote for White. "It's all about the oil business, and it's all about Republicans."
Associated Press Writer Ramit Plushnick-Masti contributed to this report from Conroe.