White Calls for Campaign Finance Limits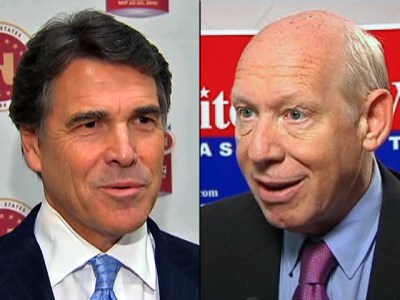 In a state known for its high-dollar political donations, Democrat Bill White is calling for limits on the size of contributions to candidates for governor. But he still hasn't figured out how much is too much.
White, trying to unseat Republican Gov. Rick Perry, said Monday he would bring both parties together to draft appropriate campaign finance limits. He also renewed his call for limits of $10,000 from people the governor appoints to state boards and commissions.
Though corporate and labor contributions are restricted in Texas, there are no limits on the amount individuals and political actions committees can give. Both White and Perry have received several six-figure donations from wealthy donors and organizations in the 2010 governor's race.
"There ought to be contribution limits to the governor's race from all citizens," said White, the former mayor of Houston. "We need to establish some bipartisan consensus of what those ought to be. Most states have them. I think it's appropriate that Texas would have them."
White has received more than $2 million from the Democratic Governor's Association, making its largest investment ever in a Texas gubernatorial candidate. White is considered the most viable, well-funded Democrat since Ann Richards lost to George W. Bush in 1994.
Perry routinely gets huge donations from wealthy Texans, including a $250,000 contribution he reported last week from Dallas businessman Harold Simmons.
In 2006, Democrat Chris Bell received a whopping $1 million donation from Houston trial lawyer John O'Quinn. White said that sounds like too much.
"My gut says 'absolutely,' but there ought to be some clear rules. They ought to apply equally," White said.
White, speaking to reporters outside the Texas Ethics Commission on the grounds of the state Capitol, also attacked Perry for his oversight of the Emerging Technology Fund, an economic development program used to lure high-tech companies to the state.
The fund has doled out more than $16 million to high-tech startups whose investors are big donors to Republican Gov. Rick Perry, according to the Dallas Morning News. Overall, the state has given $173 million to 120 companies through the tech fund, which was created in 2005. Perry said the donations had no impact on the grants.