Campaign Sign: Vote for Anybody New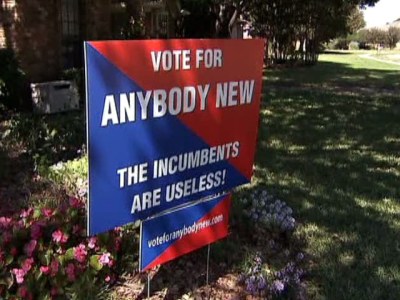 A Plano man who has voted in every election since he was 18 isn't voting for Democrats or Republicans. He's voting against incumbents.
Instead of putting up a campaign sign supporting a specific candidate, Patrick McBride put up a sign that says, "Vote for Anybody New. The Incumbents are Useless."
McBride said he got tired of the same political fighting. The same cast of characters. The same results.
"Who has the most power? The people that have been there the longest," McBride said. "And soon I realized (that), how about we just wipe it clean?"
After putting up the sign, neighbors starting responding to the slogan.
"The first two neighbors that drive by before I get in the house both stopped and asked me, 'Where I could get one?'" said Brandon McBride, Patrick's son.
He even started a website, www.voteforanybodynew.com
McBride's sign has done something that political parties haven't been able to do: get people on opposite sides of the spectrum to agree on something.
"The neighbors are wild over this," Patrick McBride said. "They're knocking on the doors. They're coming by, honking their horns and they're telling us, 'Yeah, that's the way I feel.' I just don't feel the parties -- either one -- are really American. They're like two street gangs fighting each other and destroying the city in the meantime and just fighting for turf."
The interesting part is that McBride said he doesn't consider himself a nonpolitical person. When asked who he was supporting on Nov. 2? Anyone who isn't an incumbent.