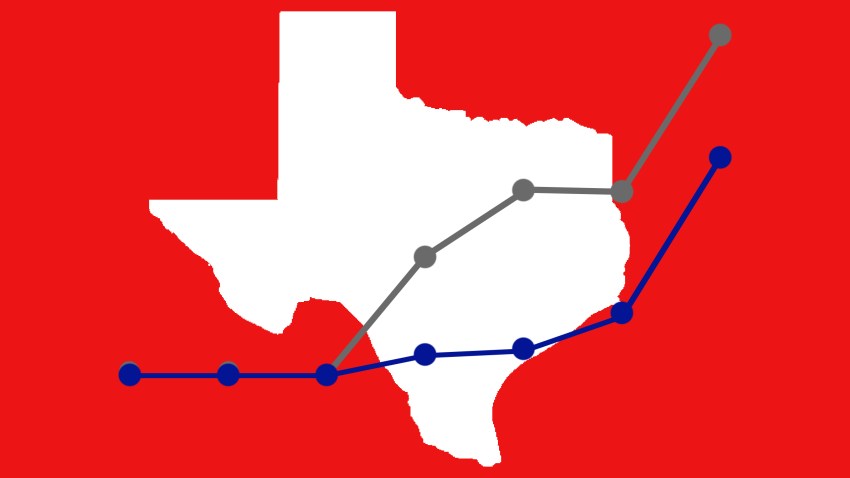 Since the first case of COVID-19 was confirmed in North Texas in mid-March, NBC 5 has been tracking every new case, death and recovery reported by the local and state health departments.
Data obtained from those reports is represented below in several ways below to show the number of cases in each city and how those cases have grown over time.
Resource: Your Guide to the Coronavirus Pandemic
---
COVID-19 Cases, Deaths, Recoveries by City
Using data provided by the county health departments in Collin, Dallas, Denton and Tarrant counties, NBC 5 produced the following interactive which allows you to see curves of infection, deaths and recoveries in each city in those counties. Note -- not all counties report information the same information -- for instance you'll find more information about recoveries in Collin and Tarrant counties compared to Denton or Dallas counties.
Tracking COVID-19 Cases in North Texas Counties
NBC 5 is tracking the number of COVID-19 related cases, recoveries and deaths in North Texas counties. Choose a county and click on a city or town to see how the coronavirus pandemic is affecting your area.
Cases are cumulative by day and are subject to change, dependent on each county health department's reporting schedule and methodology. Data may be reported county-wide, by city or town, or not at all. Cases, recoveries and death counts in 'unspecified' categories are used as placeholders and reassigned by their respective counties at a later date.

Data: County Health Departments, NBC 5 Staff
Nina Lin/NBC
Confirmed COVID-19 Cases in North Texas
Use the map below to explore the North Texas area to see how many confirmed cases of COVID-19 were confirmed in each city. Clicking on on a red circle will show the cases for that area as well as the number of deaths associated with the infection. Data in this map is generally updated several times a day.
---
*Map locations are approximate, central locations for the city and are not meant to indicate where actual infected people live.
**County totals below include all 32 North Texas counties, not just Collin, Dallas, Denton and Tarrant.
---
Confirmed COVID-19 Cases Across Texas
We have also been gathering data from across the state, to show how the pandemic has spread not only across Dallas-Fort Worth, but across the state of Texas as well. That data can also show
White House Reopening Guidelines Leave Room for Interpretation
For states considering lifting quarantine measures, the official guidelines propose either a downward trajectory of COVID-19 cases within two weeks or a downward trajectory of positive tests as a percent of total tests.
As shown below, when you compare yesterday's new case count with that of two weeks ago, the number is often lower, simply because the counts fluctuate. The criteria has been criticized by some for being vague, creating the opportunity for any governor to argue the numbers are favorable enough to start reopening.
Source: The COVID Tracking Project
Credit: Amy O'Kruk/NBC
Click on the red circles in the map below to see county-specific information on population, cases per 10,000 residents as well as the confirmed number of COVID-19 cases and the number of deaths. Data in this map is updated once per day.
Coronavirus Deaths in Your City and State — and Across the US
These charts use daily coronavirus death data from Johns Hopkins University to show the seven-day moving average of deaths at the city, state and country level.
The impact of coronavirus varies enormously in the United States from one place to another.
Source: Johns Hopkins University.
Credit: Visuals by Amy O'Kruk/NBC, data analysis by Ron Campbell/NBC
Case data pulled from a variety of sources including county health departments and the Texas Department of State Health Services.
How Coronavirus Has Grown in Each State — in 1 Chart
New York has quickly become the epicenter of the American coronavirus outbreak. This chart shows the cumulative number of cases per state by number of days since the 10th case.
Source: The COVID Tracking Project
Credit: Amy O'Kruk/NBC
Confirmed COVID-19 Cases Worldwide
The data in the map below shows the impact of the virus from a worldwide perspective. Clicking on a circle below will show you the total case count and number of deaths attributed to the virus for each country.
For the latest information, check out the CDC's website, as well as the World Health Organization's site. State and city governments are also sharing phone numbers for local hotlines and other resources. Follow all of our coronavirus coverage here.