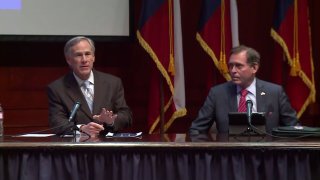 Gov. Greg Abbott said Friday that Texas has doubled its number of available hospital beds in the past two weeks. But hospital officials say not enough protective gear is available for doctors and nurses, and Texas isn't getting all the supplies it has requested from the federal government.
Abbott said Friday that Texas has about 20,000 hospital beds, nearly double what the state had in mid-March after relaxing occupancy rules. He said hospitals around Houston and Dallas, where there are the most cases in Texas, have about one-third of their beds available.
Abbott said Texas is "ahead of the curve" in hospital capacity, but even groups working with his office said personal protective equipment shortages remain an issue.
"We simply don't have the PPE we need to protect staff," said Carrie Williams, a spokeswoman for the Texas Hospital Association.
Coronavirus Pandemic
Full coverage of the COVID-19 outbreak and how it impacts you
Texas hasn't received any ventilators from the national stockpile, and although the state received 3.8 million masks from the federal government, a "much larger number" was requested, said Nim Kidd, chief of the Texas Department of Emergency Management.
He and Abbott steered clear of criticizing the amount of supplies coming from Washington but acknowledged the private sector was taking on a bigger role.
Copyright AP - Associated Press